Join Eidsbugarden and Jotunheimen with the nostalgic tracked vehicles. Here you have the opportunity to get high up in the mountains in a comfortable and exciting way. 12 Bombardier Snowmobil veterans go into traffic between Tyin and Eidsbugarden in Jotunheimen during the winter season. Choose between package tours with the tracked vehicles as transport, or book your own trip.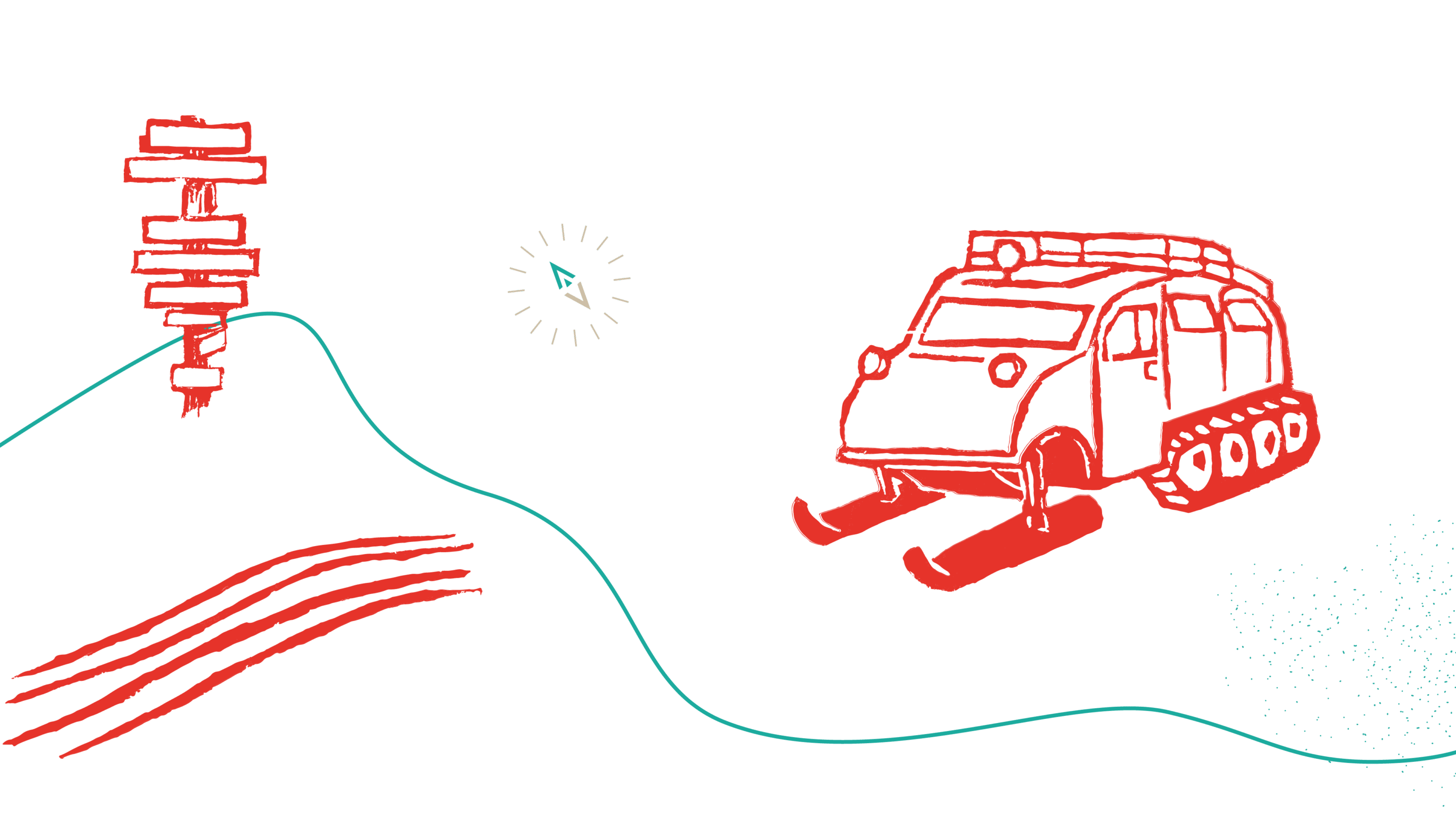 Snowcoach to Eidsbugarden
The historic Bombardier snowmobile tracked vehicles are operated by JVB. and runs from Tyin to Eidsbugarden through the winter. This is living history, transport and tourist attraction combined! Our season starts in mid-February and lasts until the beginning of May.
Traveling in these old Bombardier snowmobiles is an experience in itself. You are in vehicles up to the age of 64 that run on a route with up to eight daily departures, many of them equivalent to express buses from Oslo and Bergen. Our passengers are walkers in Jotunheimen, cottage owners or daily tourists who just want to experience this very rare type of transport.
Bombardier Snowmobiles were made by the Canadian company Bombardier from the mid-1940s to the early 1980s. These snowmobiles are today primarily collectibles and are used for recreational purposes. We own 12 tracked vehicles, the largest collection of tracked vehicles in Norway. The tracked vehicles are very well maintained and receive regular updates. Most Bombardiers are powered by an Edelbrock 5.7L V8 engine with 310 hp, while some still have an older Chrysler Industrial 5.4L V8 engine with 180 hp. Our oldest car is from 1954 and the newest is from 1976. Each Bombardier can carry 12-14 people with luggage and skis.
For ordering only transport by tracked vehicle, visit nor-way.no.
Frequently Asked Questions
You probably have a lot of questions when it comes to tracked vehicles. Here we have gathered answers to the most frequently asked questions. If you are wondering about anything else, feel free to contact us.
Does the tracked vehicle go regardless of the weather?
The tracked vehicles run almost regardless of the weather. As long as you do not hear anything from us, you should show up as normal. If there is a danger that the tracked vehicles will be adjusted, you will be contacted.
How much luggage can I bring?
Two packages plus skis (possibly snowboard or snowshoes) are included in the ticket price.
Does the tracked vehicle drive over the water?
No, the tracked car route mainly follows the summer road. Where the route deviates from the road, we are always on the mainland.
We are also looking forward to the winter, but our tracked car packages will not be on sale until the autumn. If you want to start planning right now, you can contact us at [email protected]
If you are only looking for transport by tracked vehicle (not package tour), you can order transport on nor-way.no.
Experience Jotunheimen with us!