Our vision is to be the leading tour operator for sustainable adventure travel in Jotunheimen National Park and Valdres.
We offer everything from hiking trough several days, mountain hikes to the most iconic peaks in Jotunheimen, shorter, exciting day hikes, bike rides along the Mjølkevegen – to personalized hikes. Through our collaboration with local companies, we want to give our guests a unique, sustainable and environmentally friendly experience in our mountains.
Julie Haugen Olsen –
Booking manager 
Im the booking manager at Jotunheimen Travel and the person you probably will talk to the most. I love to know that our guests experience the best tour possible. And that is where my job come in. To make sure you have easy days and know for sure that all the best options for your trip to our mountains are been taking care of. 
And remember; We tailor tours for you and your hiking group as you wish. On our website it is a lot of golden tours that will last in your memories for ever, but if you prefer your personal adventure created just for you – me and my colleagues will fix that!
Enjoy our fjords and mountains!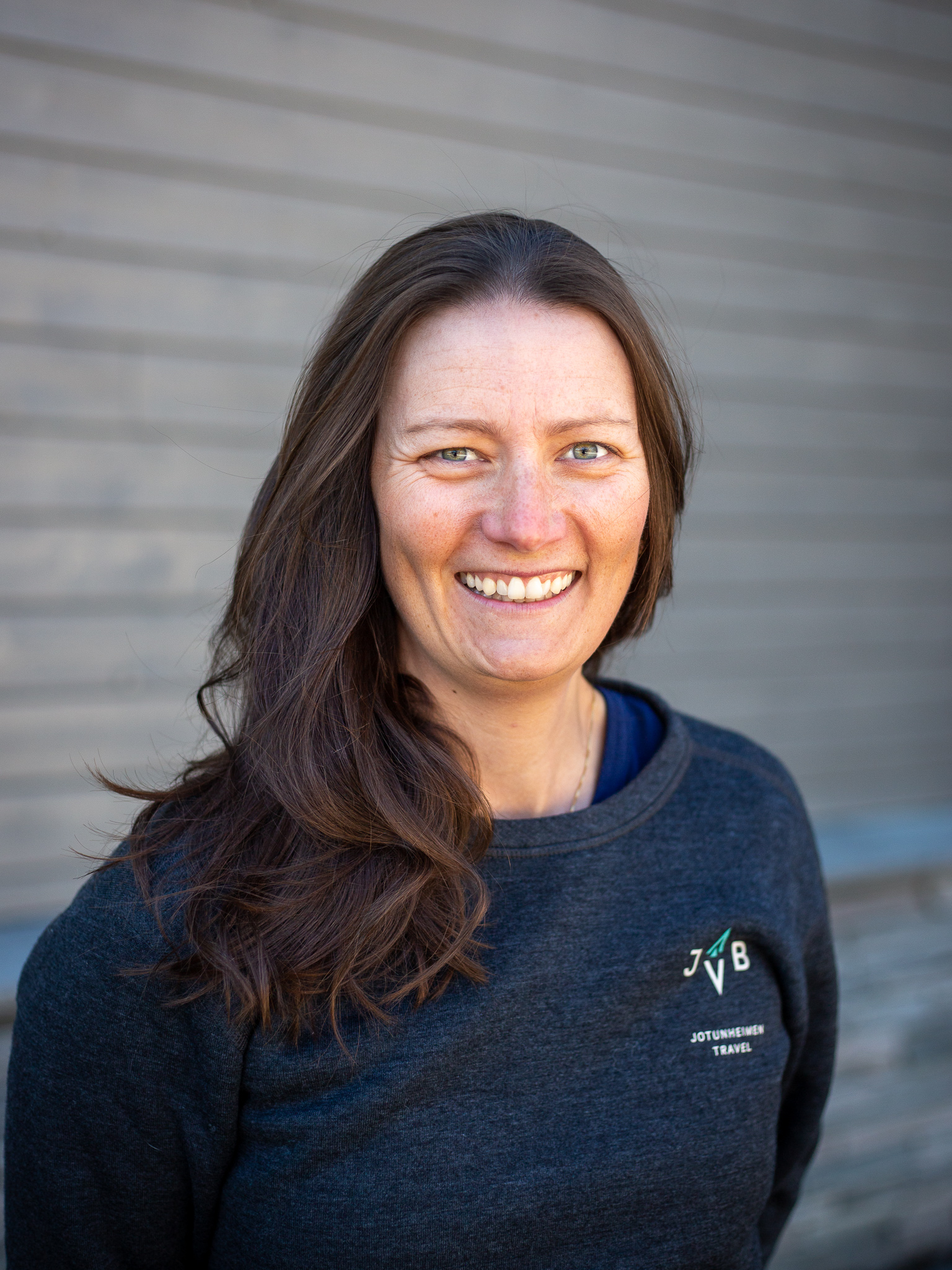 Siri Gjendemsjø –
Travel Designer 
As an Travel Designer, I work to create great and memorable experiences for everyone who wants to go out into nature with us. In my spare time, you can find me running, on a mountain bike, on cross-country skis, on foot, or behind a dog sled with eager huskys.
I appreciate the slow outdoor life, and the challenges nature provides; crossing a glacier, orienteering in bad weather, being able to handle a climbing rope to reach the last meters to the summit point. I take all these experiences with me into the design of the trips we offer in Jotunheimen Travel.
Rikard Bøe –
Travel Designer 
As an travel designer, I make it possible for you to create memorable moments. Together with my colleagues, we ensure the best experience from your first meeting, until you can recount everything you have experienced in our diverse region. Completely worry-free!
The joy of exploring gives me good experiences. What I find of good experiences I am happy to share with you. I hope you will be as impressed as I am!
I am a certified Norwegian Nature Guide with 10 years of experience in nature-based tourism.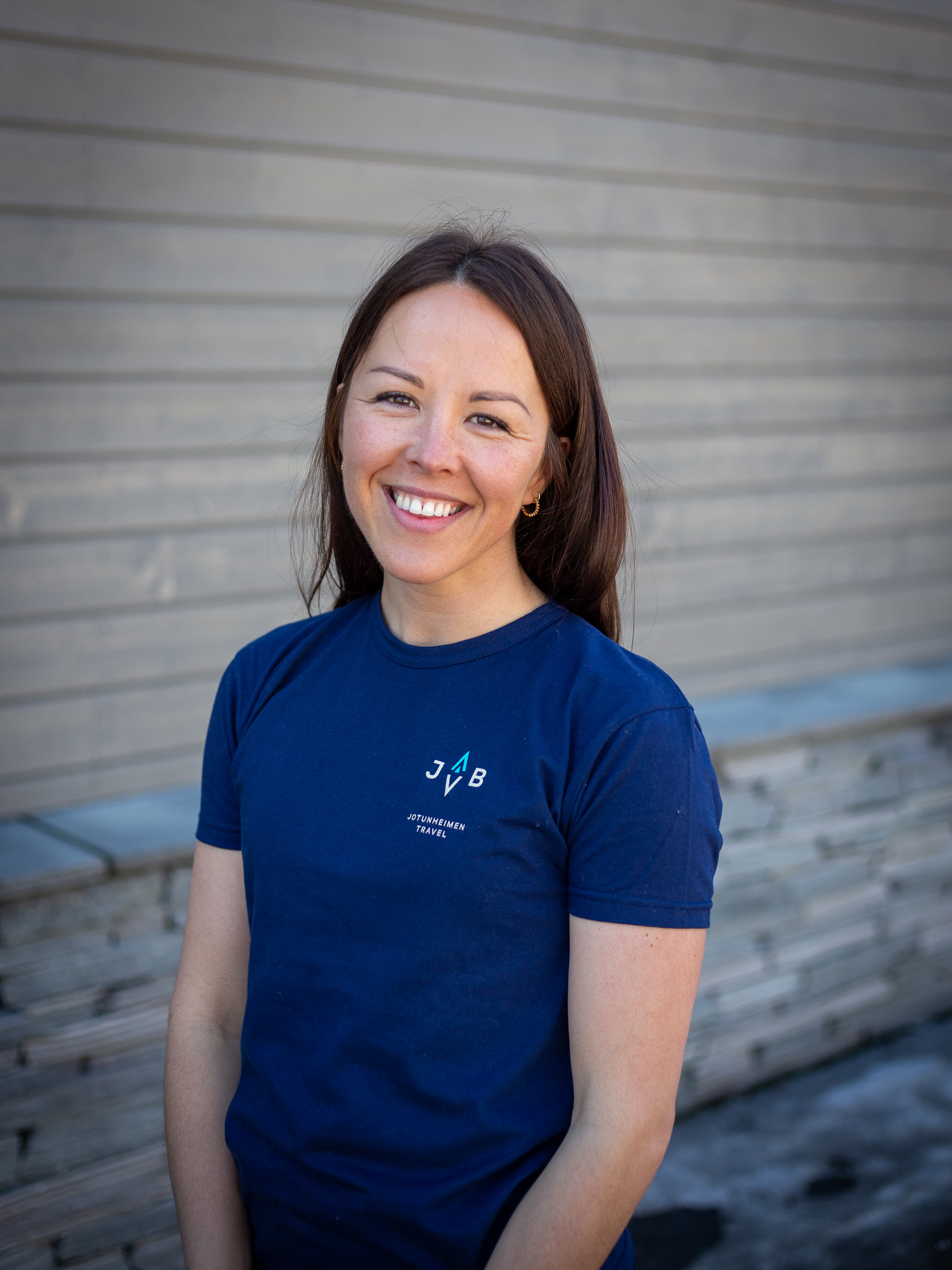 Katrine Celius –
Marketing | Product development
My job at Jotunheimen Travel, as a marketer, is to make sure that as many people as possible get to know our fantastic region!
Together with my good colleagues, I work to ensure that you will have a good overall experience, from the moment you meet us in the digital world, book the trip you want – until you get off the bus and can look back on a unique tour in the mountains.
The best thing about working at Jotunheimen Travel is to be close to nature, explore routes and terrain, and give you the best information possible, so it will be easy for you to choose us.
Georg Sichelschmidt –
CEO | Product development
As general manager of Jotunheimen Travel, I am responsible for ensuring that your trip is experienced in a good way from the start of the trip to the end. I also work with product development and am booking manager. It is me you are talking to when you contact us.
Originally I'm from Germany, but the Norwegian mountains have always occupied me, so after 12 years in the tourism industry, and as a guide in Northern Norway, I'm happy to help develop Jotunheimen Travel with my good colleagues.
Part of our job is to be out in the fields, which I also use a lot of my free time for – hiking, cycling and exploring Jotunheimen and Valdres to be able to give you the best experiences.
Our guides are all outdoor junkies and love to show you our region and the experiences you can get here. All guides in Jotunheimen Travel have the necessary certificates, and are concerned that you get through the trip safely, filled with mastery and more knowledge.
When you book a guided tour with us, you will get to know one of these skilled guides:
Guri Oline
Kjell
Magnus
Sindre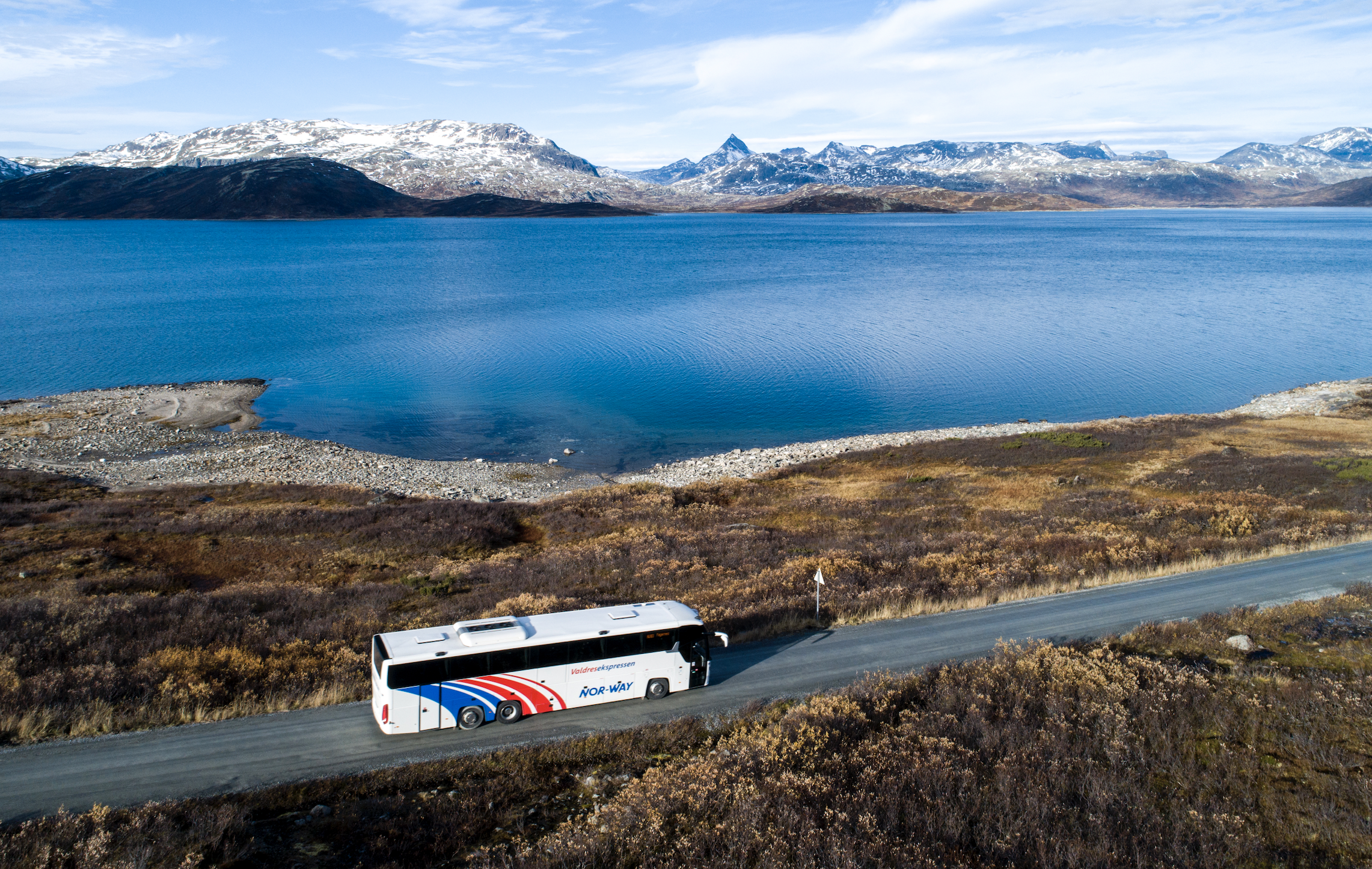 Our bus drivers have professional pride and thrive in our company that has over a hundred years of history. We have been driving visitors to Valdres and Jotunheimen since 1909.
You will meet our bus drivers first, in your travel with us. They will welcome you, take gently care of your luggage, and drive you safely between all destinations from Oslo and Bergen to Jotunheimen and Valdres. 
On  board on M/B Bitihorn "Bygdinbåten" you will meet Captain Magnus Kvame.
He sails you safely across Bygdinvannet with a historic buzz, M / B Bitihorn was built and launched in 1912, and had its maiden voyage on 17 July the same year.
The boat has been in traffic on Bygdin since, only interrupted by a couple of years during World War II.
Social responsibility and environmental protection
Jotunheimen Travel has a vision to be the leading player in sustainable experience tourism in Jotunheimen and Valdres. With this, we commit ourselves to focus on climate and environment, economy and social conditions.
Jotunheimen Travel is environmentally certified
We are proud to be an Eco-Lighthouse company. This places demands on us regarding waste management, energy-reducing measures, good HSE routines, environmental requirements when purchasing and environmental focus when transporting. We work actively with waste minimization, we have a well-functioning HSE management, and we prefer suppliers who are also Eco-Lighthouse certified.
Travel environmentally friendly
All our journeys include arrival and departure with environmentally friendly, modern buses. Our parent company, JVB, operates the stretch from Oslo to Bergen, and owns tracked vehicles and the boat on Bygdinvannet in Jotunheimen. Your personal greenhouse gas footprint is minimal when we can travel environmentally friendly to the mountains, without the use of a car. By choosing us as a tour operator, you contribute to a sustainable and environmentally friendly tourism in our region.
We support local businesses
In order to give our guests the best experiences, we collaborate with many wonderful people and places in Valdres and Jotunheimen. These are drivers who are really passionate about their local business, whether it is mountain lodges, guiding, mountain boats or restaurants. This provides high quality experiences, which ensures that our guests arrive safely and have a good experience from the trip start to finish. Through this collaboration, we support the local business community, and with this jobs in the districts that at the same time maintain the attractions for the locals in our region.
Our guides and employees otherwise need quality hiking equipment to be able to guide and explore new experiences in the mountains. The production of hiking equipment is known for not being the most environmentally friendly, a lot of plastic and preparations are used to make the clothes waterproof and withstand rough weather.
We are aware of this and have therefore chosen a supplier who as of today has managed to produce all its collections from 100% recycled material. The clothes are manufactured in Europe, and are durable with high quality, so we can use them for many years to come. With Houdini, we have found a supplier that fits our vision; to be a leader in sustainability.
A local company with a long business story
Jotunheimen Travel is part of JVB AS – a company with over 100 years of history. Throughout its life, JVB has provided transport in and to and from Valdres and Jotunheimen and operates the tracked vehicles along Tyin, the boat M / B Bitihorn at Bygdin and the express buses between Oslo and Bergen through Valdres. Jotunheimen Travel is the latest company under JVB, and our goal is to create further development in local tourism by gathering players who will give you a trip experience out of the ordinary.
Follow us in social media!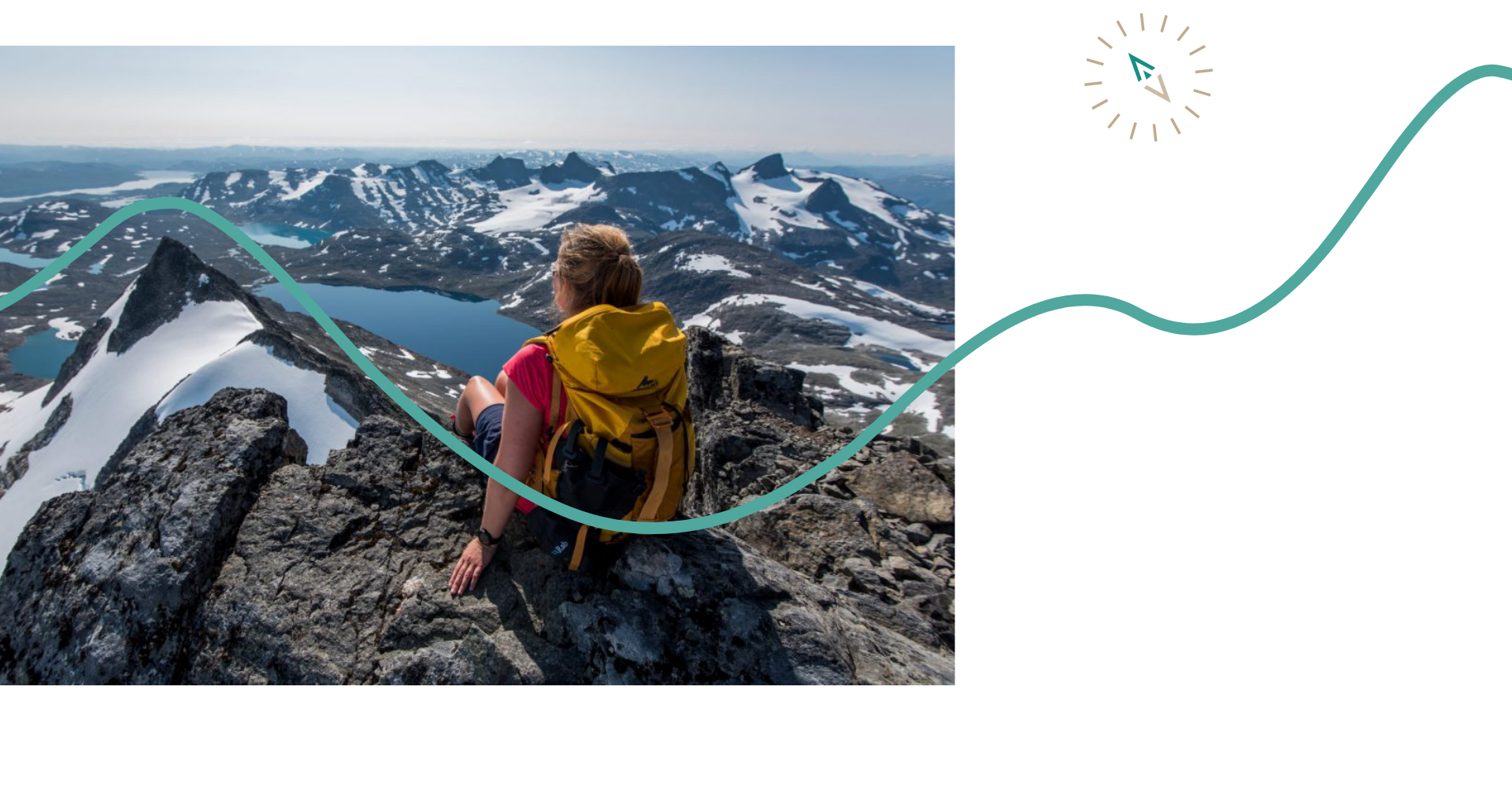 If you have any questions, don't hesitate to contact us! Send us an e-mail, and we will come back to you as soon as possible.