Hiking in norway and jotunheimen
Join us on a hike in Jotunheimen – from day trips to multi-day trips. Experience the majestic Jotunheimen from the deep, lush valleys to the highest peaks. We drive you from Oslo or Bergen straight into the mountain adventure, where we also take care of luggage transport, and arranging accommodation in cozy mountain lodges, with local history and traditional dishes.
We at Jotunheimen Travel want to make it easy for you to experience Norway's roof – Jotunheimen National Park.
If you are on a trip with us in Jotunheimen, we take care of everything from arrival by bus from Oslo or Bergen, and accommodation in the nicest places. We arrange tickets for Bygdinbåten M / B Bitihorn, or Gjendevannet and make sure that your luggage is transported to your next accommodation, so you can enjoy the trip with a light bag.
We offer self-guided tours where you are on a tour, or tours with one of our own local guides.
Frequently asked questions about our hikes
You probably have many questions when it comes to hiking in Jotunheimen. Here we have gathered answers to the most frequently asked questions. If you are wondering about anything else, feel free to contact us.
How do I carry all my luggage on a trip in Jotunheimen?</p> <p>
Jotunheimen Travel takes care of your luggage between the various accommodations, so that you can enjoy your trip with just a small backpack.
Luggage transport and handling, are included in all our mountain hikes in Jotunheimen.
How demanding is it to be on a Hike in Jotunheimen in the summer?
When you are on a mountain hike in Jotunheimen, you will stay mostly over 1000 meters. This ensures that the climate can vary quite a bit – from sunny and warm days where you just want to jump in every single water you encounter along the way, to windy, wet and cold days where you need warm and waterproof and windproof outerwear.
See recommended equipment list for our summer trips.
When you are on a self-guided tour you will walk on well marked trails and it will be easy to find. The trail can go over marshes, you may have to cross some small streams, and there can be a lot of clocks and rocks that can be demanding to walk in. It is important not to underestimate the challenges, and read carefully through tour descriptions. We have trips for most people, and probably also a trip that suits you.
Where do I spend the nights?
On a trip with us in Jotunheimen, you will spend the night in selected, cozy high mountain hotels and DNT cabins.
For us, it is important that you feel safe when you arrive, that you can relax after a long day with a lot of impressions outside, and that you can enjoy a good night's sleep, so that you are ready to continue the adventure with new forces the day after.
All our guests basically stay in double rooms. Most accommodations have en suite bathrooms. in some cases, when there is a large demand for accommodation, you can expect to share a room with others. In that case, we will notify you when ordering.
Read more about our cozy mountain lodges: 
Bygdin Høifieldshotel
Fondsbu DNT
Memurubu DNT
Gjendesheim DNT
Gjendebu DNT
Now, you probably wonder what a DNT cabin is? 
A DNT cabin is runned by the The Norwegian Trekking Association (DNT). They run more than 550 cabins all over Norway!
What about food on the Jotunheimen hikes?
We believe that the meals  is a big part of the experience on the trip, therefore the accommodation places serve you good local food in cozy surroundings. A rich breakfast buffet is served daily, providing enough energy for a long day in the mountains. Here you can make a packed lunch, and bring a hot drink in a thermos. In the evening, a 2-3 course dinner is served, which for most people will be one of the highlights of the trip.
All food and beverages are included in the price. There are usually opportunities to order food, and buy snacks and other items in small sales at the accommodation if you want something extra.
What do the color categories of the hikes mean?
We offer different tour categories on our hikes. The tours are adapted to different levels, so you can find the tour that suits you best. The tours take you on everything from the finest trails, to the most beautiful valleys and summit hikes, with unforgettable views.
The white route is best suited for beginners. The walks are nice and short, with low climbs, but the views are still amazing!
The green route is adapted for walkers with somewhat more experience. The trips are longer, and some are also day trips.
The red route is challenging and has more summit trips than the green route. All trips are day trips.
The black route is a demanding multi-day trip. It includes two very demanding, guided summit hikes, where extra equipment is needed to reach the peaks.
Experience Jotunheimen with us!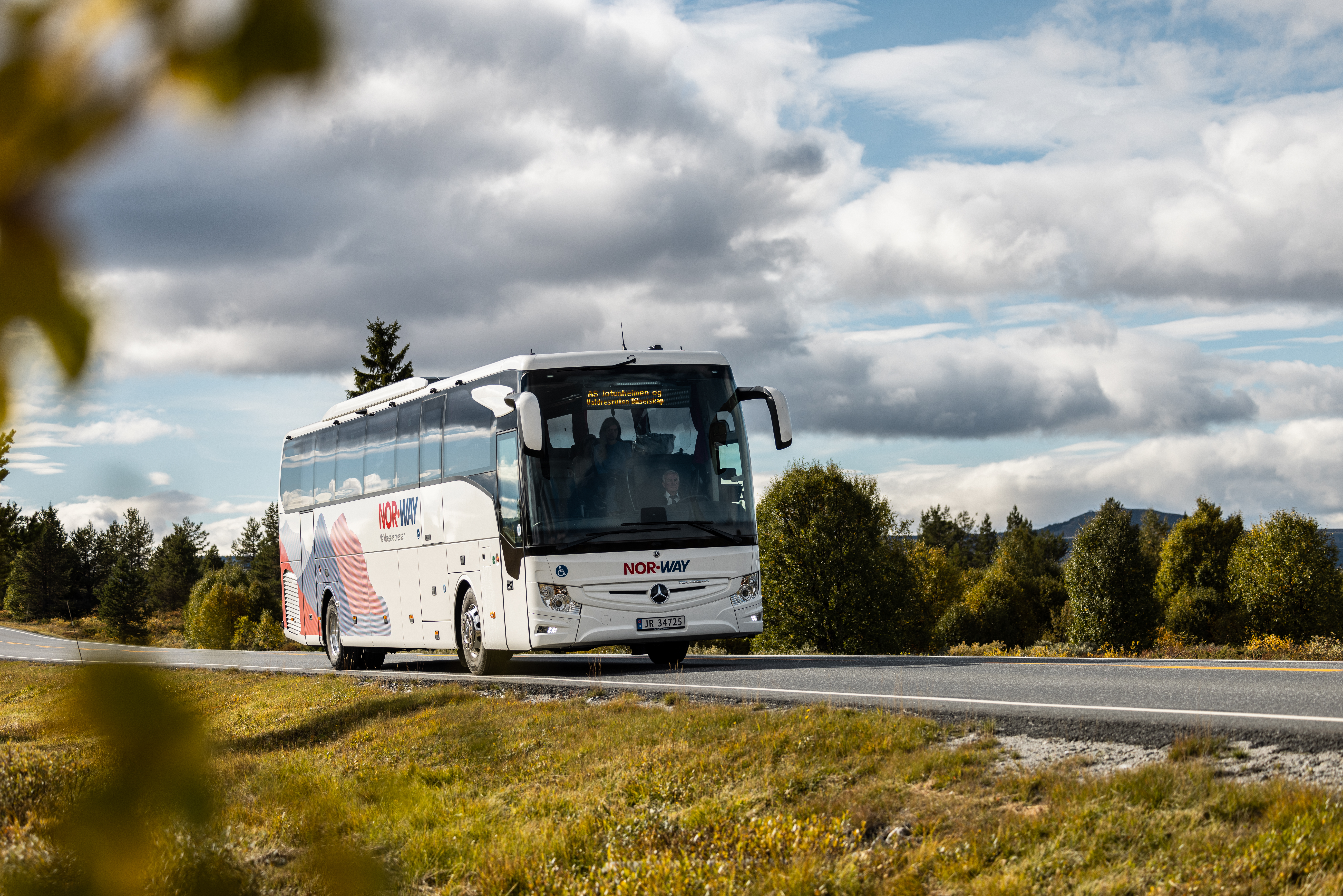 Day 1: Oslo - Lemonsjøen
Transport
Arriving by bus from Oslo to Lemonsjo
Accommodation: Lemonsjø Fjellstue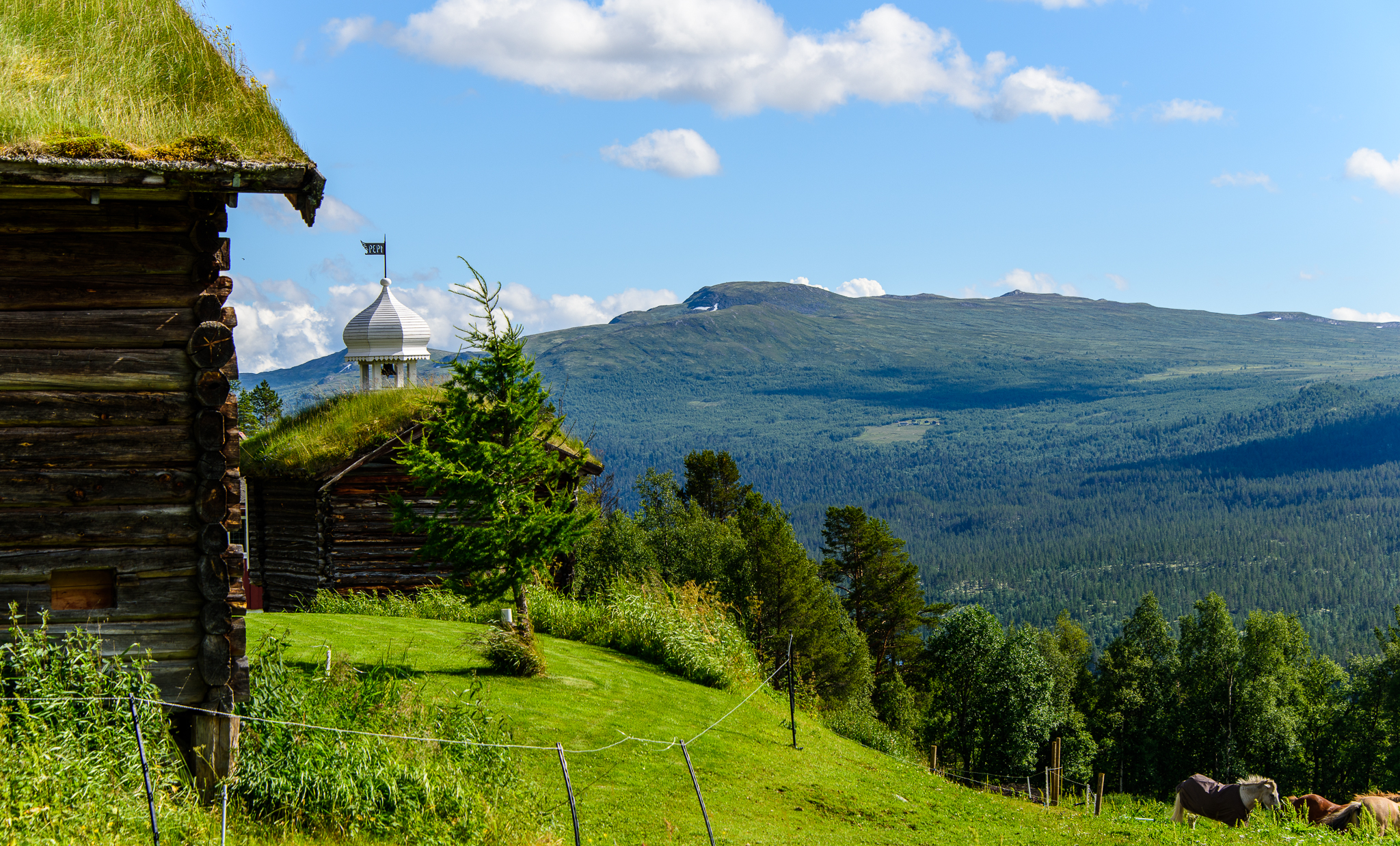 Day 2: Lemonsjøen - Ruten
Cyckling from Lemonsjøen to Ruten
Time: 3-6 hours, Distance: 59 km, ↑ 750 meters
On your first day, you will travel on a gravel road through wooded Murudalen and along several mesmerizing rivers until you come to the village of Skåbu. From there it is not far to your next accommodation.
Accommodation: Ruten Fjellstue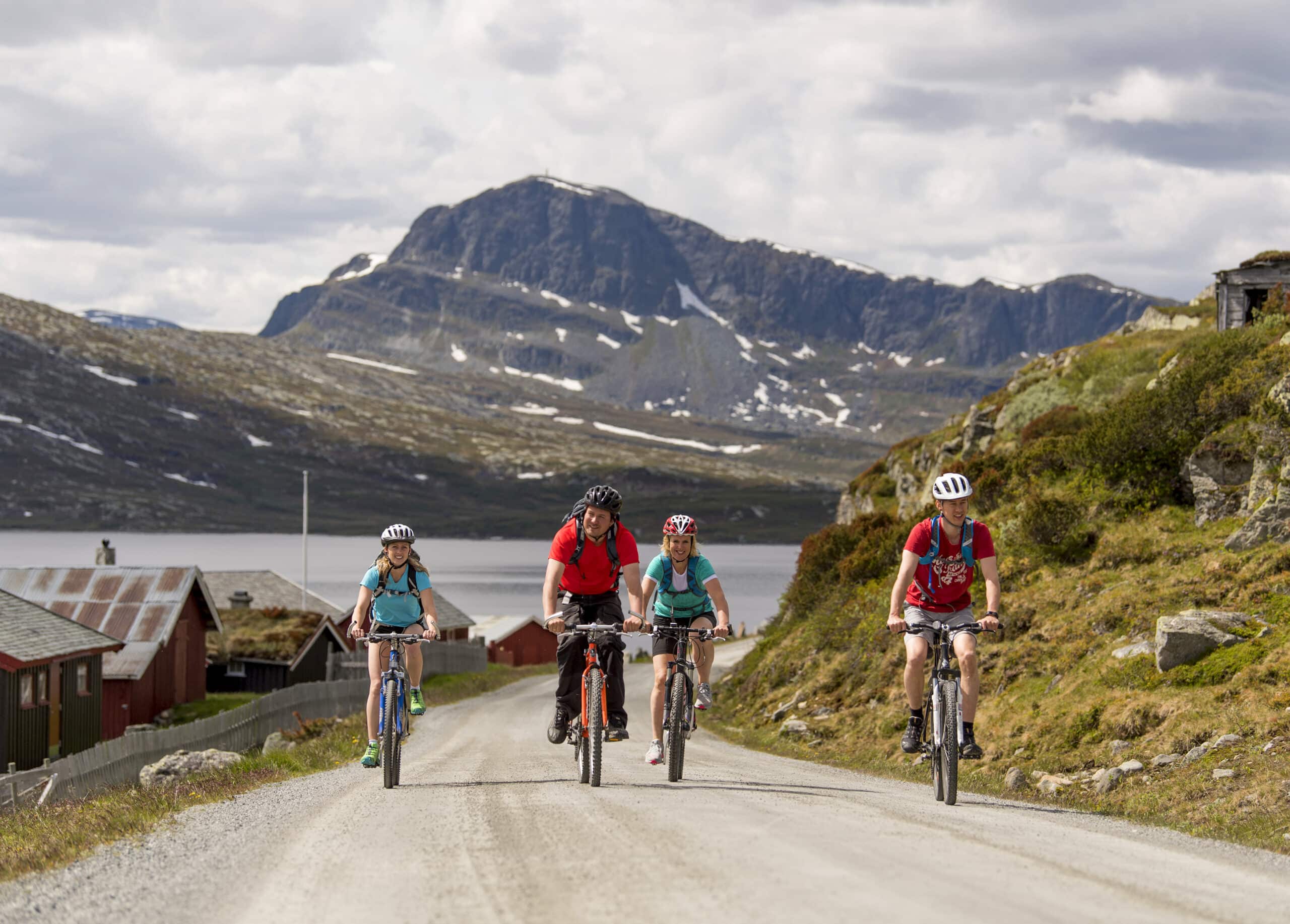 Day 3: Ruten - Bygdin
Cycling from Ruten à  Bygdin
Time: 4-5 hours, Distance: 63 km, ↑ 870 meters
Today you will follow "Jotunheimvegen", cycling from wooded Espedalen towards the mountains above the treeline. You will pass many summer farms along the way and follow the big lake Vinstra. On the horizon you can see the mountains of Jotunheimen and the summit of Bithorn.
Accommodation: Bygdin Høifieldhotell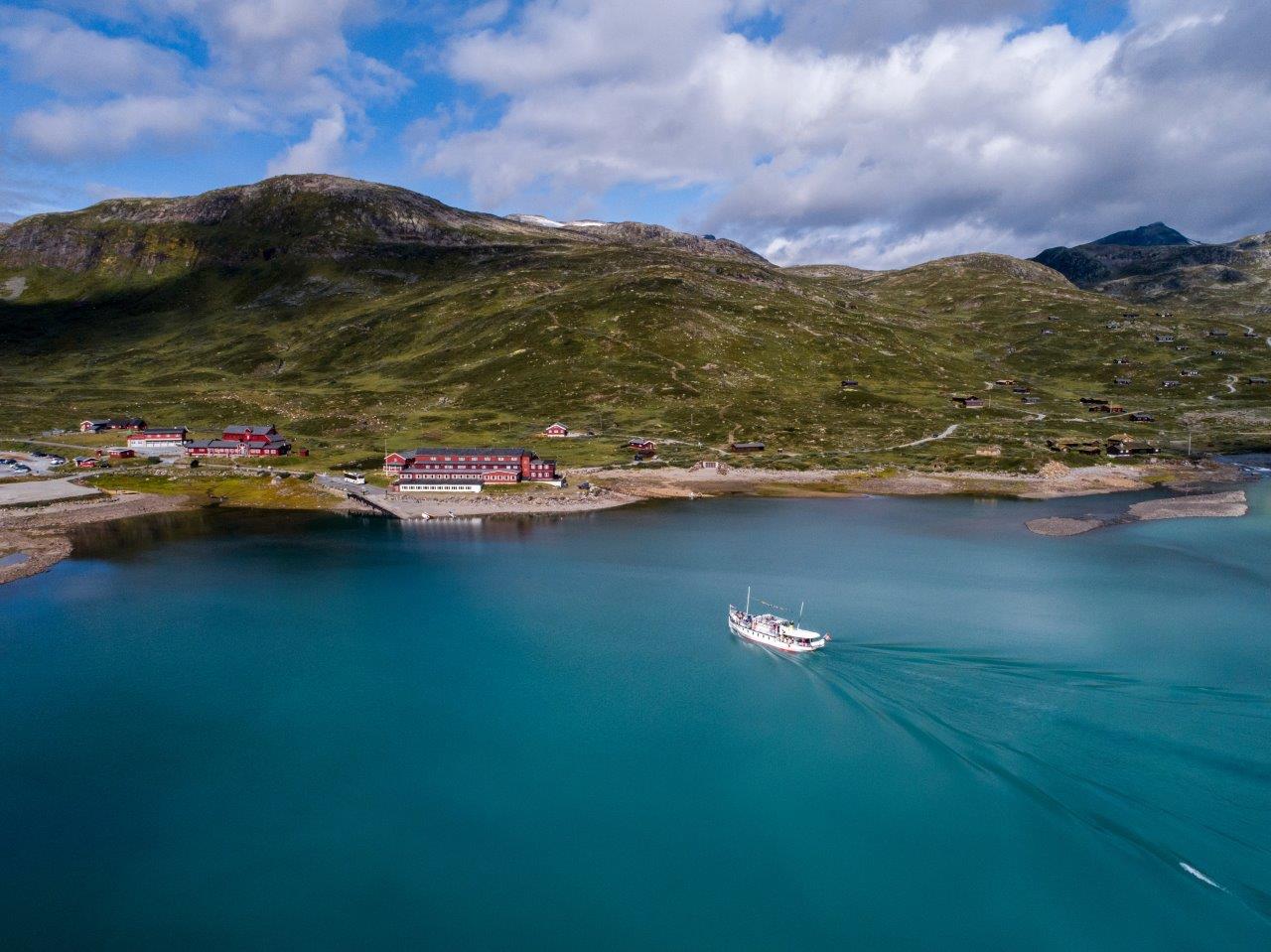 Day 4: Bygdin - Tyinkrysset
Hiking suggestion: Sysnhorn
Time: 1-2 hours, Distance: 5 kilometers, ↑ 450 meters
Synshorn is located at 1457 m.a.s.l. and offers a fantastic view of Jotunheimen. The trails are easy to walk and vary between some soft terrain and more rocky terrain near the top.
Boat: (M / B Bitihorn) Bygdin → Eidsbugarden
Cruise with the historical M/B Bitihorn over lake Bygdin (1,5 hours).
Cycling from Eidsbugarden to Tyinkrysset
Time: 2-3 hours, Distance: 23 km, ↑ 400 meters
After you reached Eidsbugarden by boat you can follow the gravel road to Tyin along the big Tyin Lake. You can do a detour into Koldedalen from Tyinholmen crossroad, to come closer to the iconic mountains like Falketinden, Uranostinden and the impressive glaciers along the way. From Tyin you cycle down the paved road to Tyinkrysset, where you can find Filefjellstuene.
Accommodation: Filjellstuene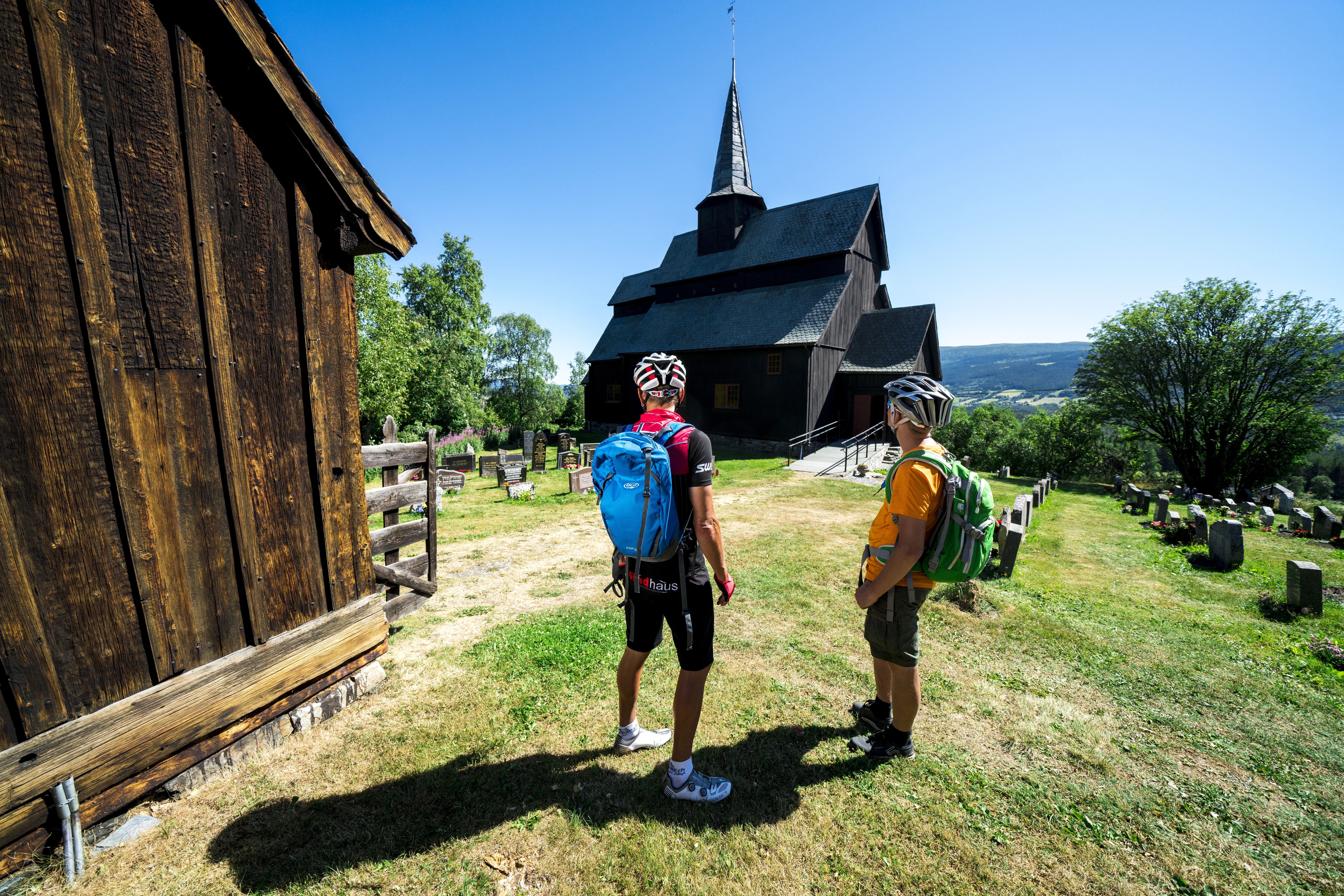 Day 5: Tyinkrysset - Syndinstøga
Cycling from Tyinkrysset to  Syndinstøga
Time: 4-6 hours, Distance: 53 km, ↑ 974 meters
From Tyinkrysset you will follow the main road and partly the "Kingsroad" down to Lake Vangsmjøsa. From here you will follow this beautiful lake along steep hillsides until you need to climb again to reach Syndin plateau and Syndinstøga at approx.1000 m.a.s.l. This stretch is the most challenging leg of the Mjølkevegen route.
Accommodation: Syndinstøga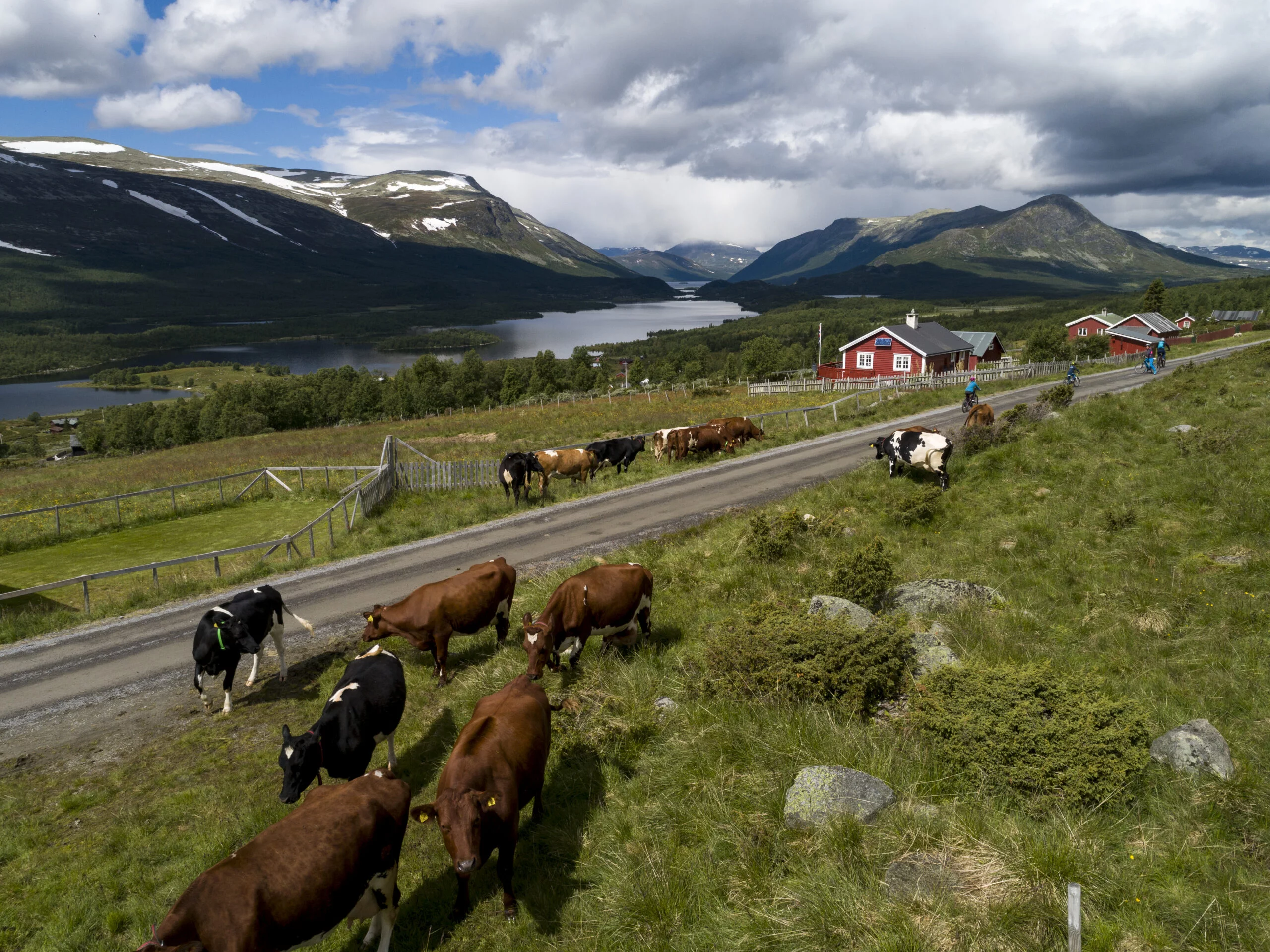 Day 6: Syndinstøga - Vaset
Cycling from Syndinstøga to Vaset
Time: 2-4 hours, Distance: 29 km, ↑ 423 meters
A shorter day awaits you and a more lively region with many summer farms, cabins, and farm animals on or along the gravel roads. You will reach today the Vaset region – a very popular cabin region amongst Norwegians.
Accommodation: Gomobu Mountain Lodge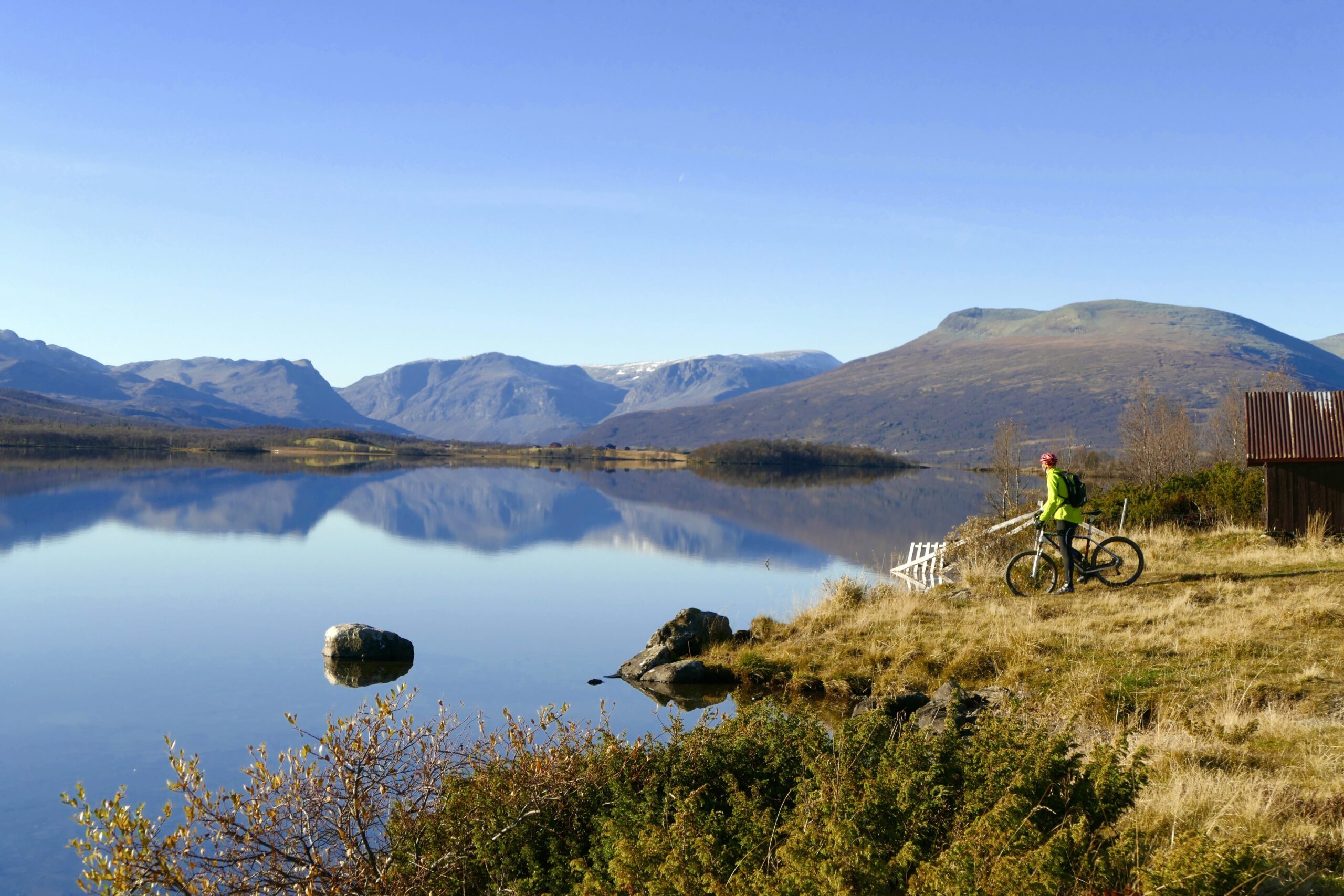 Day 7: Vaset - Kamben
Cycling from Vaset to Kamben
Time: 2-3 hours, Distance: 35 km, ↑ 330 meters
From Gomobu you will follow "Panoramavegen" – like the name says with a panoramic view over the rolling and cultivated landscape of Golsmountains.  In between you have the chance to visit a summar farm and the famous café Langestølen.
Accommodation: Kamben Høyfjellshotell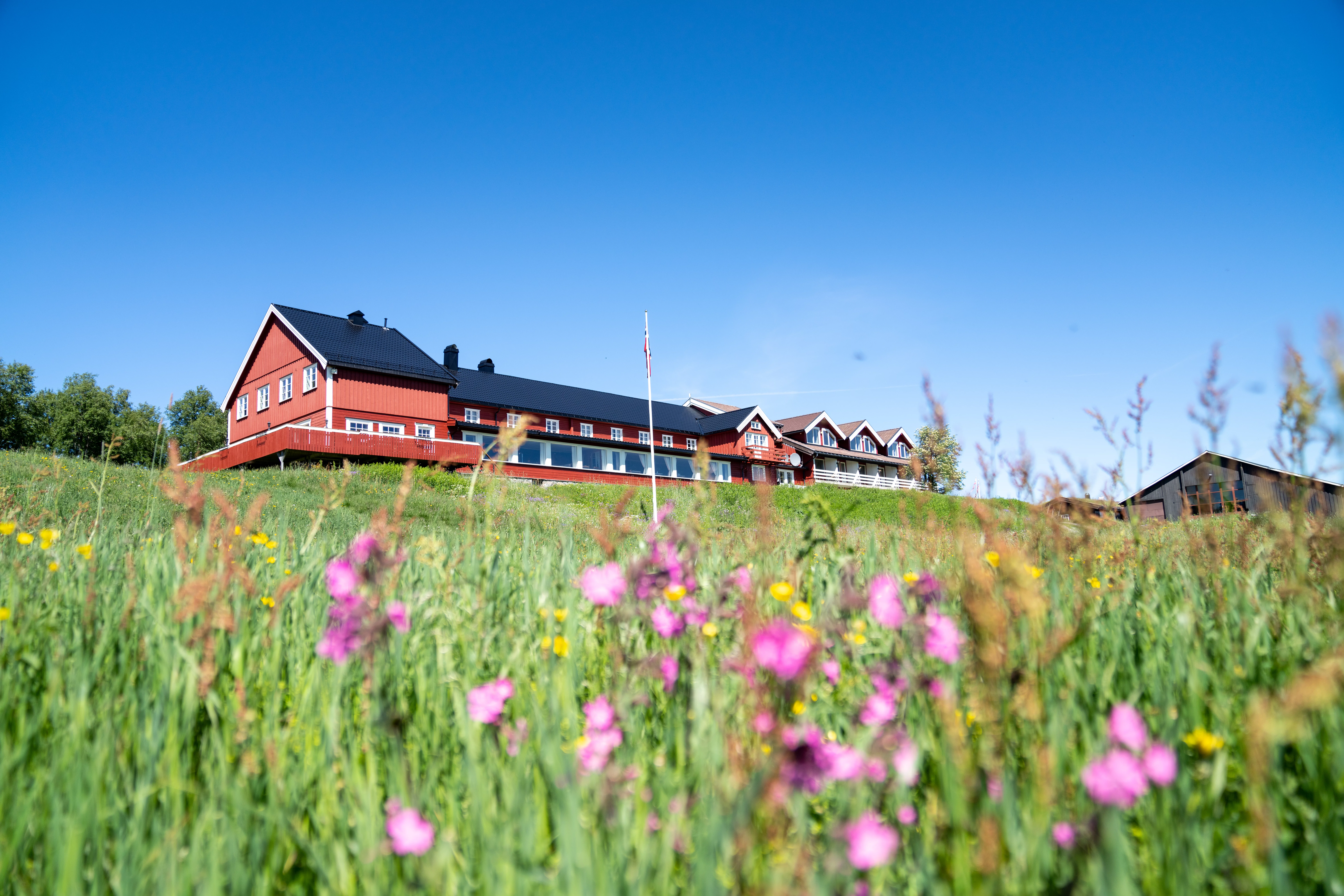 Day 8: Departure
Departure
We will bring you to the bus at Fagernes (30 minutes drive)
Bus from Fagernes to Oslo
Below you will find practical information about this trip.
Can not find what you are looking for? See our frequently asked questions page, or send us an email - we will help you!
Transportation
The journey includes all transport to / from Oslo, and between accommodations.
Luggage transport
We will send your luggage (1x luggage per person) from accommodation to accommodation, to make your daily experiences as light and easy as possible. 
Meals
Tour pension includes breakfast, packed lunch and dinner. If you want another drink for dinner or snacks / chocolate on the trip, this can be bought at the cabins. It is possible to fill the thermos with hot drinks (for a fee) and drinking bottles with water (free of charge) at all accommodation.
Accomodation
We choose our accommodations carefully with focus on cyclist specific services and delicious local food. 
All accommodations offer a place to lock your bicycle, charge the battery and have some basic tools if you need to fix your bicycle.  
Packing list
You will need a light backpack for day trips, preferably between 20 and 30 liters. A waterproof "duffel bag" for the rest of the luggage is recommended. The luggage is moved from place to place and may be exposed to rain and other elements during transport.
Wool socks, thin
Wool underwear or track underwear
Rain, and windproof jacket and trousers
Shirt, or sweater of wool or fleece
Rain, and windproof jacket and trousers
Lue
Buff / scarf
Mittens / cycling gloves
Cycling shorts / trousers
Shorts
T shirt
Indoor footwear
Extra underwear
Extra indoor pants
Toiletries
Toilet paper and clogged paper bags
Garbage bags
Gnawing plasters
Thermos and water bottles
Seat pads
Camera
Mobile
Charging bank
Sunglasses
Sunscreen
For self-guided bike rides:
Map and tour description
Map app on mobile - eg Norway map
Small first aid kit
Bicycle:
You are welcome to bring your own bike if you have one, or you can rent a bike from us.
All the bikes we rent out are mountain bikes with front dampers that are well adapted to the gravel roads you will be riding on. You can choose between a regular bike or an electric bike. If you want to cycle Mjølkevegen Nord, it is only possible to rent an electric bicycle. Helmet and repair kit are included in the rent. When you have arrived at your last accommodation, we will take care of the bike for you.
Do you have your own bike you want to bring?
It is possible to bring your own bike, subject to free luggage space on the bus. Enter the desired when ordering.
The roads along Mjølkevegen and Tour de Dovre mainly consist of gravel roads with some sections of path and asphalt. We recommend a so-called hardtail, ie a mountain bike with a front damper. We recommend tires with a little width and good studs. Electric bike is incredibly nice to ride Mjølkevegen with, then you get enough energy to enjoy the ride, and the nice surroundings around you. We also recommend having a mini tool set, patchwork for tires, and a mini bike pump. Then you have the opportunity to quickly move on if the injury should occur.
Bicycle rental
You are welcome to bring your own bike if you have, or you can rent a bike from us.
Renting an electric bike (Giant Talon/Giant Raom) for the Grand Tour costs NOK 5 500
Then you can rent a men's bike, a women's bike and/or a junior bike. Everyone costs the same. Junior fits height 145-165cm.
It is also possible to rent a bike trailer for NOK 1 700.
All the bikes we rent out are electric bikes with front suspention forks that are well suited to the gravel roads you will be riding on. A helmet and repair kit are included in the rent. When you have arrived at your last accommodation, we will take care of the bike for you. (It is not possible to use bikre trailer on thesse bikes).
It is also possible to rent a mountain bike (Diamant Mogul) for NOK 4 400. On these bikes you can use bike trailer, it costs NOK 3 275)
Do you have your own bike you want to bring? The roads along Mjølkevegen consist mainly of gravel roads with some sections of paths and asphalt. We recommend a so-called hardtail, its a mountain bike with front suspention fork. We recommend tyres with some width and good lugs. Electric bikes are incredibly nice to cycle Mjølkevegen with, then you get enough energy to enjoy the ride, and the nice surroundings around you. We also recommend bringing mini tool kits, patches for tires, and a mini bike pump. Then you have the opportunity to quickly move on if the accident should occur.
Trails
Mjølkevegen (the Milky Way) consist mainly of gravel roads. Partly you will cycle paved roads and as well single trails. You share the road with cars – but traffic is very limited. What you more often will meet are cows, goats and sheep along your way. 
The route is well marked. However, you will get the original Mjølkevegen map from us and in addition gpx files for all routes for your own navigation.