6 days, self-guided
At the South Route of the Mjølkevegen you will experience the treeless highlands and the cultivated summer farm and cabin regions with views towards the high mountains of Jotunheimen. You will cycle on good gravel roads, and you have the chance to visit some of the summer farms along the way for a lunch. Lakes inviting you for a bath and a well-developed route network makes it possible to explore more or less of the region. This round-tour is suitable for the whole family and leisure cyclist. The total distance is about 120 km.
Bike along beautiful mountain and steel landscapes
Cozy mountain lodges with good local food
Local summer farm culture
Spectacular views
Bus transport from / to Oslo
Luggage transport
Accommodation incl. Towels and linen
Breakfast, packed lunch and dinner
Detailed tour description
Original Mjølkevegen map
16th June – 24th September: Daily departures. 
Price:
Double room: NOK 12 295 
Single room: NOK 14 095
Children 0-5 years:
NOK 750
Children 6-12 years:
NOK 7 695*
*staying in parents room
The popular Mjølkevegen
The cycle route Mjølkevegen south is part of the very popular Mjølkevegen which stretches 250 km through beautiful Valdres. Mjølkevegen is one of Norway's most beautiful cycling routes, and it stretches all the way from Vinstra in Gudbrandsdalen to Gol in Hallingdal. The south route of Mjølkevegen is about 100 km long, and takes you from Golsfjellet over Stølsvidda, to Vaset and Syndin through the beautiful mountain and mountain landscape.
Good terrain 
The southern route goes through nice and flat terrain with few slopes, and is cycled mainly on gravel roads. While cycling, you are surrounded by the mountains, and you have a view of the snow-capped mountain peaks in Jotunheimen on the horizon, in addition to the closer mountains Gilafjell, Grønsenknippa, Storlifjell and Golsfjellet. The cycle route goes through idyllic pastures and stable landscapes where you pass cows and sheep grazing outside. In addition, there are several picnic areas along the route where you can sit down to have lunch while enjoying the beautiful views and the fresh mountain air. This is a cycling route that is perfect for families with children or those who want a quiet route that is not too demanding.
Who is the Mjølkevegen South route suitable for?
Mjølkevegen: The south route is a family-friendly bike ride that is suitable for both active families, or well-experienced cyclists who want a calm and nice route. The southern route is also a good alternative for those who want to experience everything this beautiful region in Norway has to offer – this is a flexible trip where you can choose to combine cycling with mountain trips or try other great cycling routes in the area. Along the road and at the accommodation there are several beautiful mountain and hiking trips, such as Syningen by Storefjell and Noseknippa by Panoramaveien. There are also many other nature experiences that are just waiting to be discovered along Mjølkevegen, such as swimming and fishing in the beautiful lakes, and cultural experiences such as visiting the traditional stables in the area.
Map
The map shows the route you will cycle.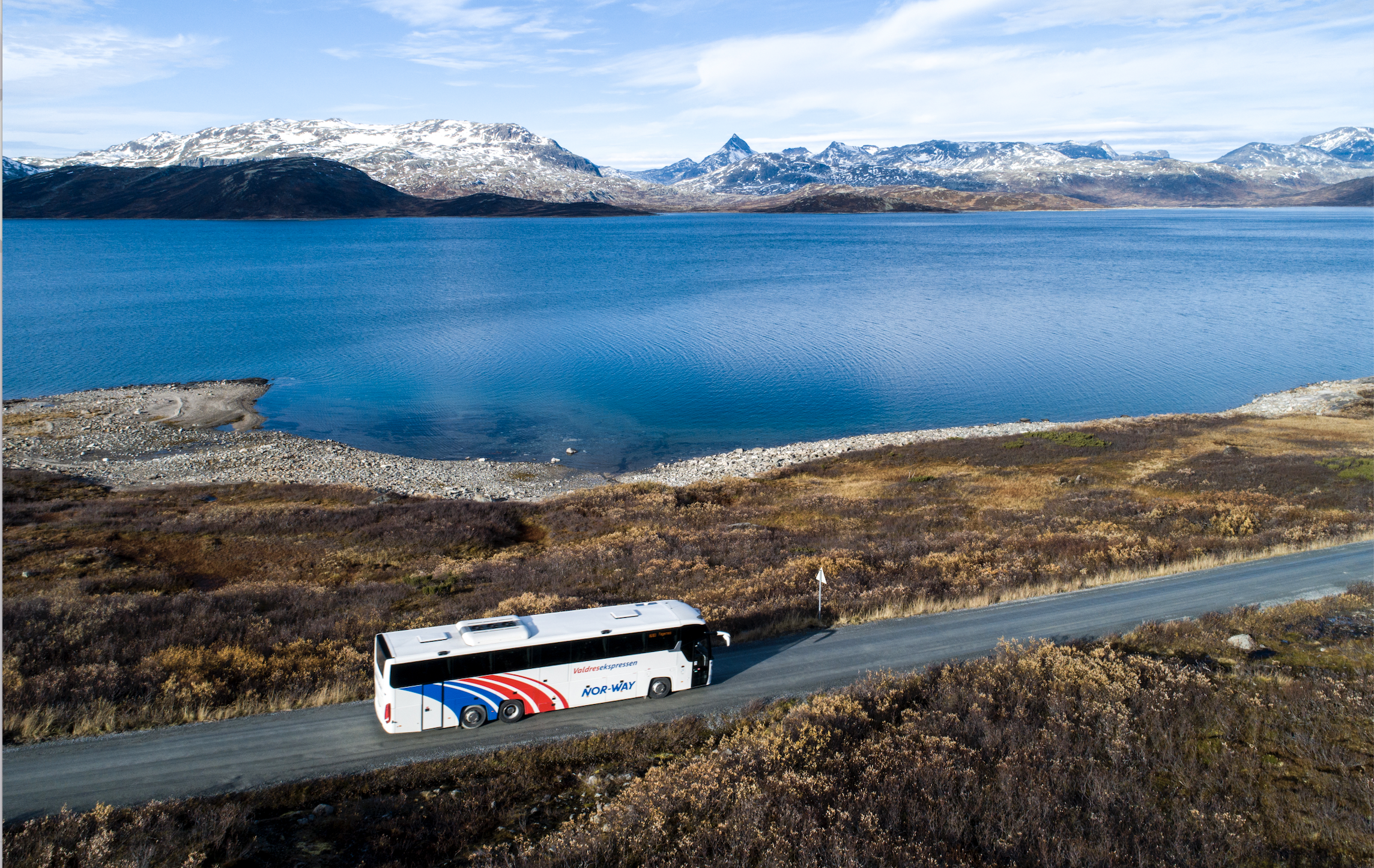 Day 1: Oslo - Kamben
Arrival by Valdresekspressen from Oslo.
Different departure times available. 

Enjoy the trip from the big city towards Valdres and Jotunheimen! The express buses take you straight from the capital to the heart of Norway. On the way you will pass mountains, valleys, rivers, and beautiful farms. The buses have free WiFi, power outlets with USB chargers and toilets. 
You need to leave the bus at Fagernes from where we will pick you up and drive you to Kamben, the first accommodation (45 min). 
Accommodation: Kamben
Your first and last accommodation, the mountain hotel Kamben, will welcome you with exceptional service. They will give you all necessary information about your upcoming cycle tour. When you booked a rental bike you will receive it here. The comfortable, family run hotel gives you a dream start into your holidays.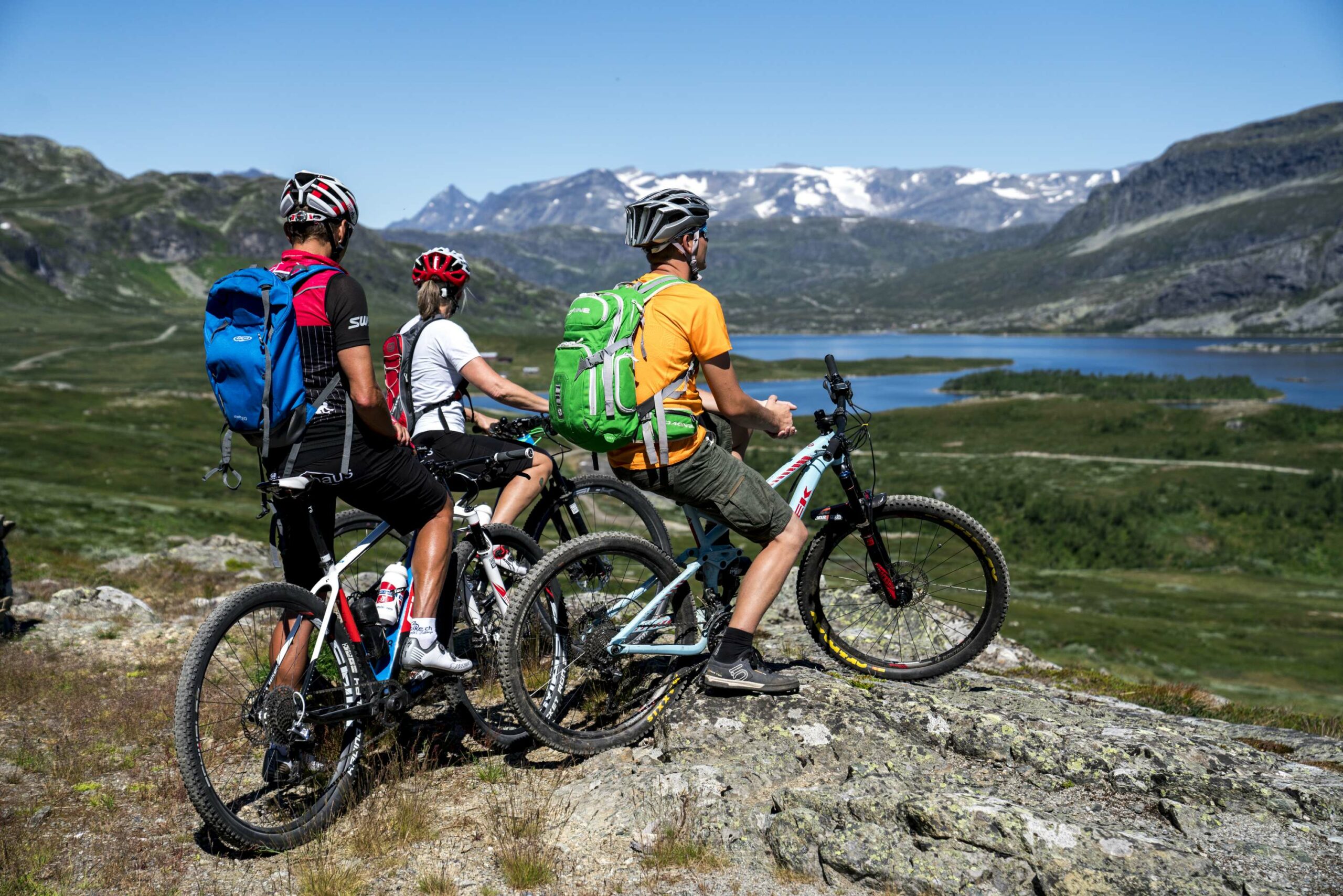 Day 2: Kamben - Vaset
Cycling: Kamben → Gomobu (via Stølsvidda)
Difficulty: Easy
Time: 2-3 hours
Distance: 26 kilometers
Ascent: 364 meters
Cycle from Golsfjellet over the treeless beautiful Stølsvidda to Vaset gives you some climbing with the reward of beautiful views towards Jotunheimen and Hemsedalsfjellet. The route passes through active farming areas where farm animals graze freely, and it is more than likely that you will see animals grazing along the road during your trip 
Accommodation: Gomobu Mountain Lodge
Gomobu Fjellstue lies on top of the hill over Vaset. A family-owned place with a cozy atmosphere and traditional food.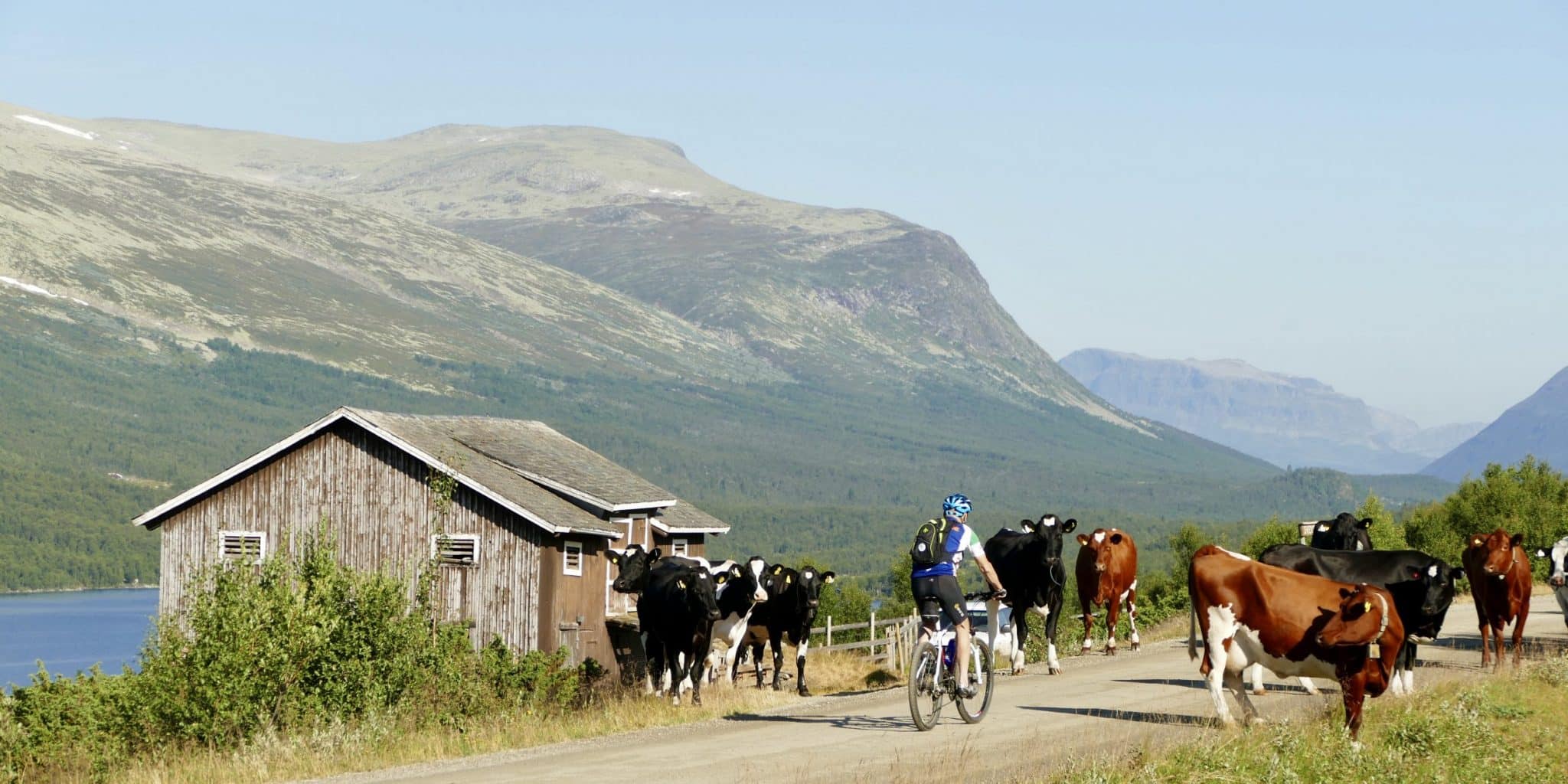 Day 3: Vaset - Syndinstøga
Cycling: Gomobu → Syndinstøga (Mjølkevegen)
Difficulty: Easy
Time: 2-3 hours
Distance: 23 kilometers
Ascent: 395 meters
Descent: 285 meters
Today you will have a shorter stretch, and you will mostly have nice gravel roads through active farming areas. You will cycle along many lakes today – you might take the chance for a bath.
Accommodation: Syndinstøga
This small accommodation offers just a few apartments and cabins. The kitchen is well known in the region, and you can look forward to a culinary highlight after a day in the saddle.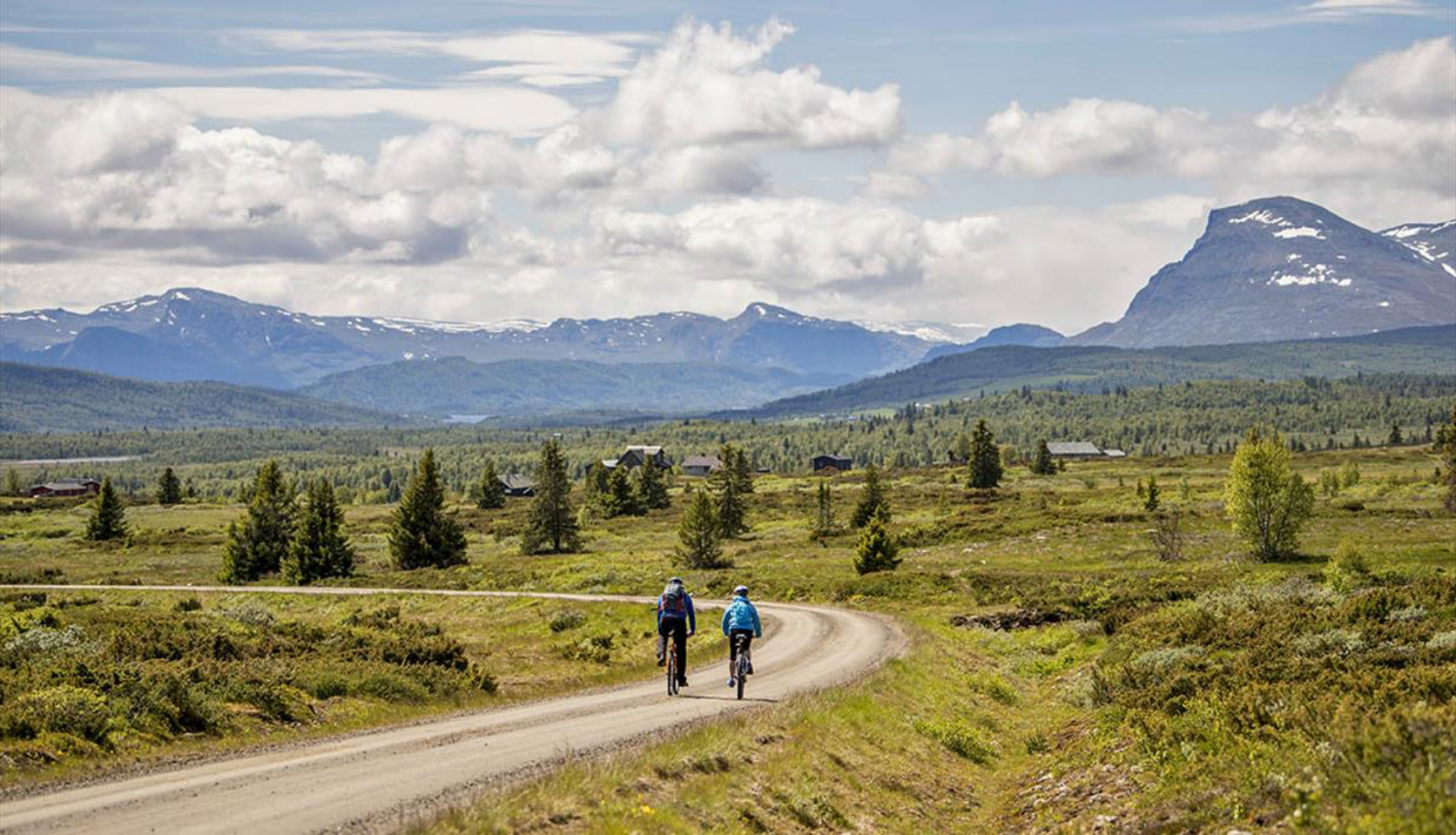 Day 4: Syndinstøga - Vaset
Cycling: Syndinstøga → Gomobu (trail accross Grønnsen)
Difficulty: Easy
Time: 2-4 hours
Distance: 29 kilometers
Ascent: 423 meters
Descent: 416 meters
The alternative route between Syndinstøga and Gomobu leads you over Grønnsen Jaslangen. This route has a section of about 2.5 km of trail, which must be wheeled and can be wet.
Accommodation: Gomobu Mountain Lodge
At Vaset you will find Gomobu Fjellstue. A family-owned place with a cozy atmosphere and traditional food.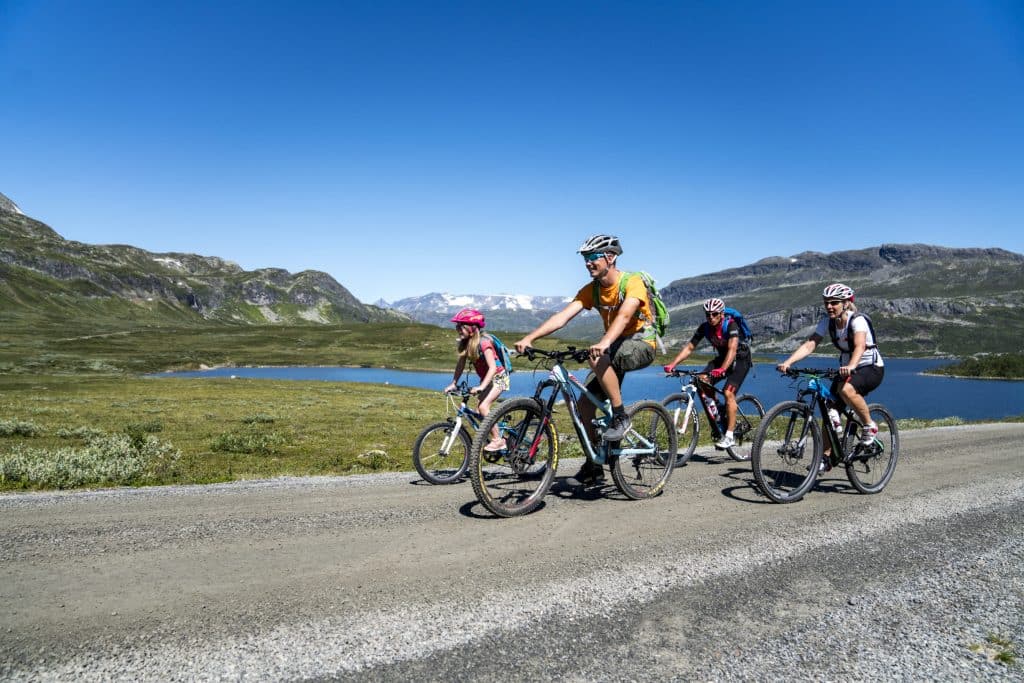 Day 5: Vaset - Kamben
Cycling: Vaset → Kamben (via Panoramavegen)
Difficulty: Easy
Time: 2-3 hours
Distance: 35 kilometers
Ascent: 330 meters
Descent: 377 meters
From Gomobu you will follow today "Panoramavegen" – like the name says with a panoramic view over the rolling and cultivated landscape of Golsmountains.  Inbetween you have the chance to visit a summar farm and the famous café Langestølen where you can enjoy the Norwegian specialty "rømmegrøt" (a sour cream porridge) and the traditional waffles.
Accommodation: Kamben
Celebrate your last day with a delicous 5-course dinner at this comfortable mountain lodge.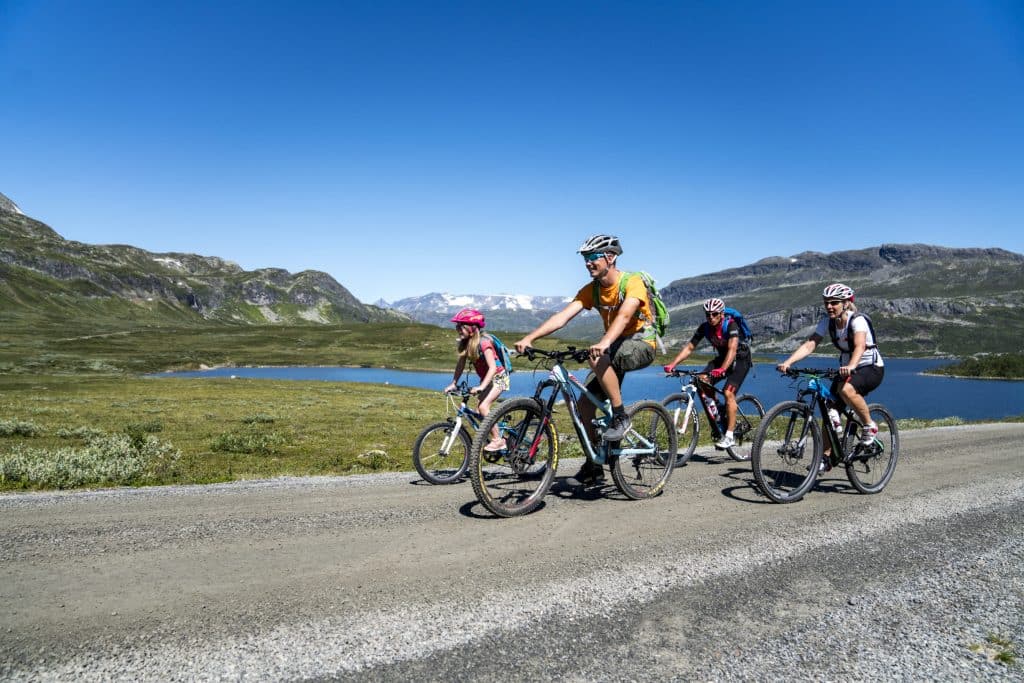 Day 6: Departure
We will drive you to Fagernes bus station.
Bus: Fagernes to Oslo bus terminal
Our express buses take you straight from Fagernes back to the capital of Norway. On the way you will pass mountains, valleys, rivers, and beautiful farms until you come closer to the more urban suburbs of Oslo. The buses have free WiFi, power outlets with USB chargers and toilets
Below you will find practical information about this trip.
Can not find what you are looking for? See our frequently asked questions page, or send us an email – we will help you!
Transportation
The journey includes all transport to / from Oslo, and between all accommodations.
Luggage transport
All luggage transport between all accommodations is included in the price, and includes:
From Kamben to Gomobu Fjellstue
From Gomobu Fjellstue to Syndinstøga
From Syndinstøga to Gomobu Fjellstue
From Gomobu Mountain Lodge to Kamben
Meals
Tour pension includes breakfast, packed lunch and dinner. If you want another drink for dinner or snacks / chocolate on the trip, this can be bought at the cabins. It is possible to fill the thermos with hot drinks (for a fee) and drinking bottles with water (free of charge) at all accommodation.
Accomodation
Day: 1 – Kamben
Day: 2 – Gomobu Mountain Lodge
Day: 3 – Syndinstøga
Day: 4 – Gomobu Mountain Lodge 
Day: 5 – Kamben 
Packing list
When you order, you will receive a detailed packing list.
Trails
Mjølkevegen (the Milky Way) consist mainly of gravel roads. Partly you will cycle paved roads and as well single trails. You share the road with cars – but traffic is very limited. What you more often will meet are cows, goats and sheep along your way. 
The route is well marked. However, you will get the original Mjølkevegen map from us and in addition gpx files for all routes for your own navigation. 
On this route it is possible to do detours and to shortcut or extend the route. You will find some recommendations in your detailed tour description.
Bike rental
If you have your own bikes, you can bring these. If you travel by bus, there are unfortunately limited places for bicycles. Feel free to check with us. 
Otherwise, you can rent bikes at the starting point. 
The E-bikes are HardRock E-Shock 3, 29″, high mode 60 km, normal mode 85 km, Eco mode 125 km. 9 gear by Shimano Deare RD-M592. Str S, M, L og XL. the smallest fits for people over 140 cm. 
The mountain bikes are Diamant Mogul, female, male, and junior models.
E-bike 4 days: NOK 2 743
E-bike 1 extra day NOK 686
Bike 4 days: NOK 1 995
Bike 1 extra day NOK 499
Bike trailer 4 days: NOK 1 430
Bike trailer 1 extra day NOK 350
Experience Jotunheimen with us!