Discover Jotunheimen:
Red Route  
8 days, partially guided
On this hike, for the experienced trekker, you will get a little bit of everything in Jotunheimen National Park. Hikes through beautiful valleys, hiking the famous Besseggen Ridge, and climbing the iconic Uranostind by crossing a glacier. And in between you can enjoy and rest at different historical accommodations, being served dinner every night based on local food. You need to be in good shape with day stretches of up to 17 kilometers and over 1000 accent meters several days in a row. Be aware that the terrain in Jotunheimen is probably rockier than what you may be used to.  
Hiking in Jotunheimen National Park
Iconic Besseggen ridge

Guided glacier

/summit hike to

Uranostinden

Bout cruises 

Delicious local food at historic accommodations
Bus transport from/to Oslo
Boat cruise x 4
Luggage transport
Accommodation x 7
Breakfast, packed lunch and dinner x 7
Local guide Uranostind
Detailed tour description
Map
June – August
– daily departures 
First arrival day: 27.06.2024
Last arrival day: 27.08.2024 
Price:
1 person in doubbelroom:
NOK 17.950
Single room supplement:
NOK 3.850
Here you can see the route you are hiking!
Day 1: Transport Oslo to Bygdin
Transport
Take the bus Valdresekspressen from Oslo to Jotunheimen.
Activity, Hike Synshorn
Time: 1-2 hours, Distance: 5 kilometers,
↑ 450 meters
Synshorn is located at 1457 m.a.s.l. and offers a fantastic view of Jotunheimen. The trails are easy to walk and vary between some soft terrain and more rocky terrain near the top.
Accommodation: Bygdin Høifieldshotell
Dag 2: Bitihorn
Activity, Hike Bitihorn
Time: 4-6 hours, Distance: 10 kilometers,
↑ 600 meters
Bitihorn is an iconic mountain at 1607 m.a.s.l. and is a classic route at Bygdin. It is one of the simpler peaks in the area and is well-suited for beginners and mountaineers. At the top, you get a fantastic panoramic view of large parts of Valdres.
Accommodation: Bygdin Høyfjellshotell
Day 3: Svartdalen
Transport, Boat cruise
You will sail with historical M/B Bitihorn from Bygdin to Torfinnsbu, where your hike starts (45 min).
Activity, Hike Svartdalen (the Black Valley)
Time: 6-8 hours, Distance: 14 kilometers,
↑ 610 meters
Svartdalen is a very beautiful valley with views of many 2000-meter peaks and glaciers. However, it is not an easy hike since the trail is quite rocky and good surefootedness and poles are an advantage. In the end, a steep downhill awaits you – under wet conditions, this part can be quite slippery too. Take your time to come safely to the next cabin.
Accommodation: Gjendebu DNT-cabin
Day 4: Restday or hike Gjendetunga
Restday
This day you can enjoy a rest day in the beautiful environment at Gjendebu.
Alternative 1 Hike Gjendetunga
Time: 3-5 hours, Distance: 10 km, ↑520 meters
Gjendetunga towers over the cabin Gjendebu and is a trip you will not want to miss if you are in this area. On a clear day, we enjoy lunch at the top with a 360-degree beautiful view of green Gjende, and the mountain massifs to the east and west. But be aware that there is a shorter steep section that can be a bit challenging especially when wet.
Accommodation: Gjendebu DNT-cabin
Day 5: Besseggen
Transport, Boat cruise
You will sail with one of the boats at Gjende Lake to Memurubu, where your hike starts (30 min).
Activity, Hike Besseggen
Time: 7-9 hours, Distance: 14 kilometers,
↑ 1100 meters
Besseggen is one of Norway's most popular hikes. On the whole hike, you will have fantastic views over the green color Gjende Lake, glaciers and high mountains. The Besseggen Ridge itself looks steep and impossible to climb but is doable for everybody without fear of heights. This hike is long and has a lot of ascent meters but will give you long-lasting memories.
Accommodation: Gjendesheim DNT-cabin
Day 6: Veslådalen
Transport by Boat Cruise
You will sail with one of the boats at Gjende Lake to back to Gjendebu, where your hike starts (1 h 15 min).
Activity, Hike Veslådalen
Time: 5-7 hours, Distance: 16 kilometers,
↑516 meters
The hike between Gjendebu and Eidsbugarden goes between the lakes Gjende and Bygdin in Jotunheimen National Park. From Gjendebu, the trip goes through Veslådalen before ending at Eidsbugarden.
Accommodation: Fondsbu DNT-cabin
Day 7: Glacier hike and Uranostind
Transport by car
Your guide will pick you up in the morning to drive for about 1 hour to the start.
Activity, Guided Hike Uranostind
Time: 9-12 hours, Distance: 17 kilometers, Ascent: 1050 meters
Uranostind 2.157 m.a.s.l. is an iconic mountain peak in Jotunheimen you can see from far away. You will cross a glacier, do some easy climbing and then crawl out on the top ridge and admire the spectacular view from the summit. This hike is a guided tour and included glacier safety equipment.
There can be made changes because of weather or conditions on this guided hike.
Accommodation: Fondsbu DNT-cabin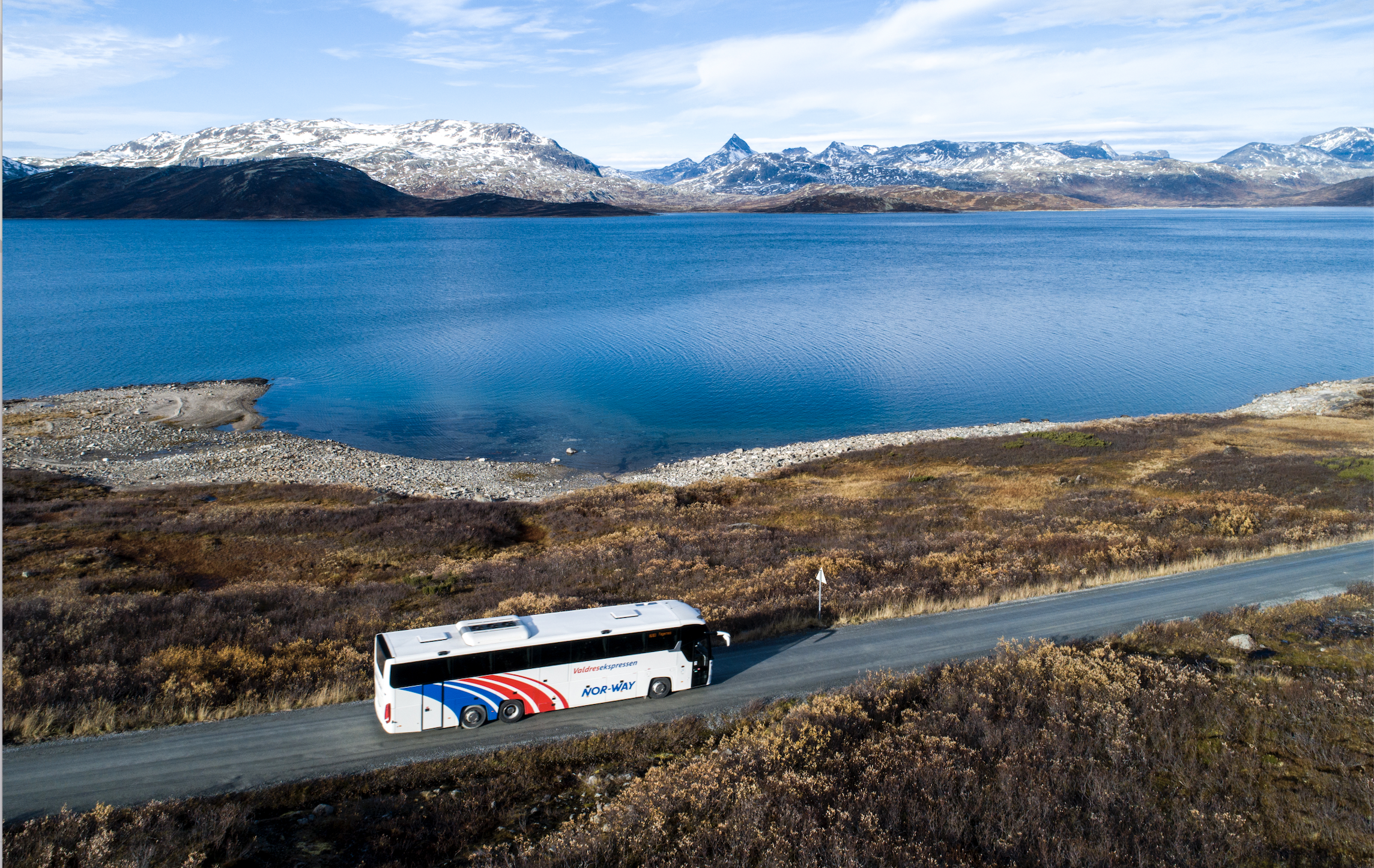 Day 8: Departure
Departure, Boat cruise to Bygdin
Your mountain adventure ends with a beautiful journey across Bygdin Lake with historic M / B Bitihorn. On board "Bygdinbåten" you will see many of Jotunheimen's mighty peaks towering along the water.
Transport
You will catch the bus Valdresekspressen back to Oslo.
Below you will find practical information about this trip.
Can not find what you are looking for? See our frequently asked questions page, or send us an email – we will help you!
Add-on
Go to Bergen instead of Oslo
NOK 150
You can choose to end your trip in Bergen instead of Oslo. Then you will skip the last cruise to Bygdin and take the bus from your last accommodation.
Fjord cruise from Flåm to Bergen (5 hours)
NOK 1.485
When ending your trip to Bergen, you can travel the last bit by cruise boat from Fåm to Bergen. This is a perfect way to also experience Norway's beautiful and deep fjords.
Extra night in Oslo
Price on request
If you are interested in seeing the capital of Norway, or your flight is arriving late, you can add one extra night in Oslo, including breakfast. You can also add the extra night in Oslo at the end of the trip.
Important details
To fully enjoy your hiking adventure in the mountainous areas, it's important to dress appropriately for the weather conditions and local temperatures. For a comfortable and enjoyable experience, we recommend wearing warm, waterproof clothing, sturdy mountain hiking boots that provide ankle support, and sunscreen and sunglasses. It is not recommended to wear trail runners, everyday shoes, or sneakers. We also recommend bringing hiking poles in this type of terrain.
Luggage transport
We will send your luggage from cabin to cabin, so you only need to bring a daypack.
Accomodation
At Bygdin you will get a private bathroom with a toilet and shower. In the Dnt cabins, you will meet a traditional atmosphere where the rooms have bunk beds and bathrooms and showers are in the hall.
Bygdin Høyfjellshotell:
This hotel has a long tradition of hosting active mountain people who want to visit Jotunheimen. Even though many rooms were renovated you will get a historical atmosphere. The food is sure to be the highlight of your stay. Dinner is made from local ingredients and comes to taste great.
Gjendebu DNT-cabin:1
At 990 m.a.s.l. at the west end of Gjende Lake, you will find Gjendebu totally remote except for access by hiking or boat. The DNT accommodation consists of several cabins and a main house with a beautiful dining room, with good local food – This is the oldest cabin of DNT, built in 1871.
Gjendesheim DNT-cabin
Gjendesheim Turisthytte has a history dating back to 1878. The hut is run by DNT and is located in the heart of the Norwegian mountains, with Besseggen ridge as a neighbor.
Fondsbu DNT-cabin:
Fondsbu is located in beautiful Eidsbugarden. The cottage is widely known for its good atmosphere, hosts, and great location. A popular place for hikers.
Meals
All restaurants offer food based on local ingredients. For breakfast, there will be a buffet. Here you also need to make yourself a packed lunch that you bring for the day. At arrival, you will receive from us a food wrap you can use to pack your lunch. It is possible to fill a thermos. Dinner will be served in the afternoon/evening.
Route
Our selected daily hikes are well-marked, and you will meet other hikers. The trails are narrow, often rocky, and sometimes you need to cross rivers and streams. Therefore, we recommend ankle-height mountain boots and hiking poles.
You will receive a physical map and gpx files from us on arrival and a detailed tour description for orientation.
Difficulty
Hard
Kilometer: up to 20 kilometers
Ascent: up to 1500 ascent meter
Terrain: Varied trail, where longer sections are hilly and rocky, there will also be features and exposed terrain.
On these trips, we spend a lot of time in demanding terrain, and there are long ascents and descents. The tours are usually around 6-8 hours. These trips can also involve crossing glaciers and rappelling, this requires that the person participating in the trip has some previous experience and is in good physical shape.
Please ask us if you are not sure about your level.
Equipment list
When you book with us, we'll provide you with a packing list to ensure you have all the necessary clothing and gear.
Transport
Travel green by using public transport.
Experience the convenience of choosing from various departure times and travel destinations along our express bus routes. Share your travel plans with us, and we'll take care of the arrangements, ensuring a stress-free experience for you.
Experience Jotunheimen with us!