Svartdalen – daytrip in Jotunheimen
Join us for no less than 2 fantastic boat trips in Jotunheimen. Gjendebåten on Gjende and M / B Bitihorn on Bygdin. In addition to Jotunheimen's most beautiful valley; Svartdalen. The popular hiking route from Torfinnsbu to Gjendebu takes you through Svartdalen – meaning "The Black Valley" –, which is often referred to as the most beautiful valley in Jotunheimen. As you wander through this lush valley, majestic towering peaks will surround you, several of which are over 2000 meters high.
Svartdalen – a lush paradise between high mountains
Bus transport: Beitostølen – Bygdin – Beitostølen
Boat transport: M / B Bitihorn, Gjendebåten
Detailed tour description
Svartdalen fra Beitostølen
The journey starts out from Bygdin, where you catch the historical Bitihorn boat to Torfinnsbu. Here at the shores of the Bygdin lake, you will find the DNT cabin (mountain lodge run by The Norwegian Trekking Association) which has the easiest access to the most 2000+ meter mountaintops of all. From here, you will climb up a steep hill leading into Svartdalen. From there, the terrain through the valley will be relatively flat and easy for eight kilometres, and on your journey, you will be walking alongside beautiful lakes and streams.
During the last leg of the hike, the majestic pyramidal mountain Knutsholstind, will be your companion. This staggering 2342 meter giant, also known as the king of the Gjende Alps – a mountain range in the eastern part of Jotunheimen – was considered Norway's highest mountain in older times. In actuality, it is the 13th highest one.
As you leave this companion, and the gorgeous valley behind, the track takes on a very steep descent, of about 500 meters over only a few kilometres. As you approach Gjendebu – which is DNT's oldest cabin –, you will through sheltered birch covered mountainsides, and wander over beautiful flower meadows, possibly alongside grazing cows. As you make your way down, be sure to stop and soak up the view of the emerald green waters of Gjende.
From here, you can hop on one of the Gjende Boats, which will take you to Gjendesheim. The duration of the walk through Svartdalen will be anywhere between 5-8 hours, depending on walking pace. Being dependant on two boats however, only gives you 6,5 hours if you are to make the trip in a day. Should that prove difficult, you can also spend the night at Gjendebu DNT cabin. Situated at 995 meters above sea level, at the intersection of high mountains and forests with a rich variety of peaks and glaciers you can explore, as well as opportunities for mountain fishing, or even beach life with swimming and volleyball, that might not be a bad option at all.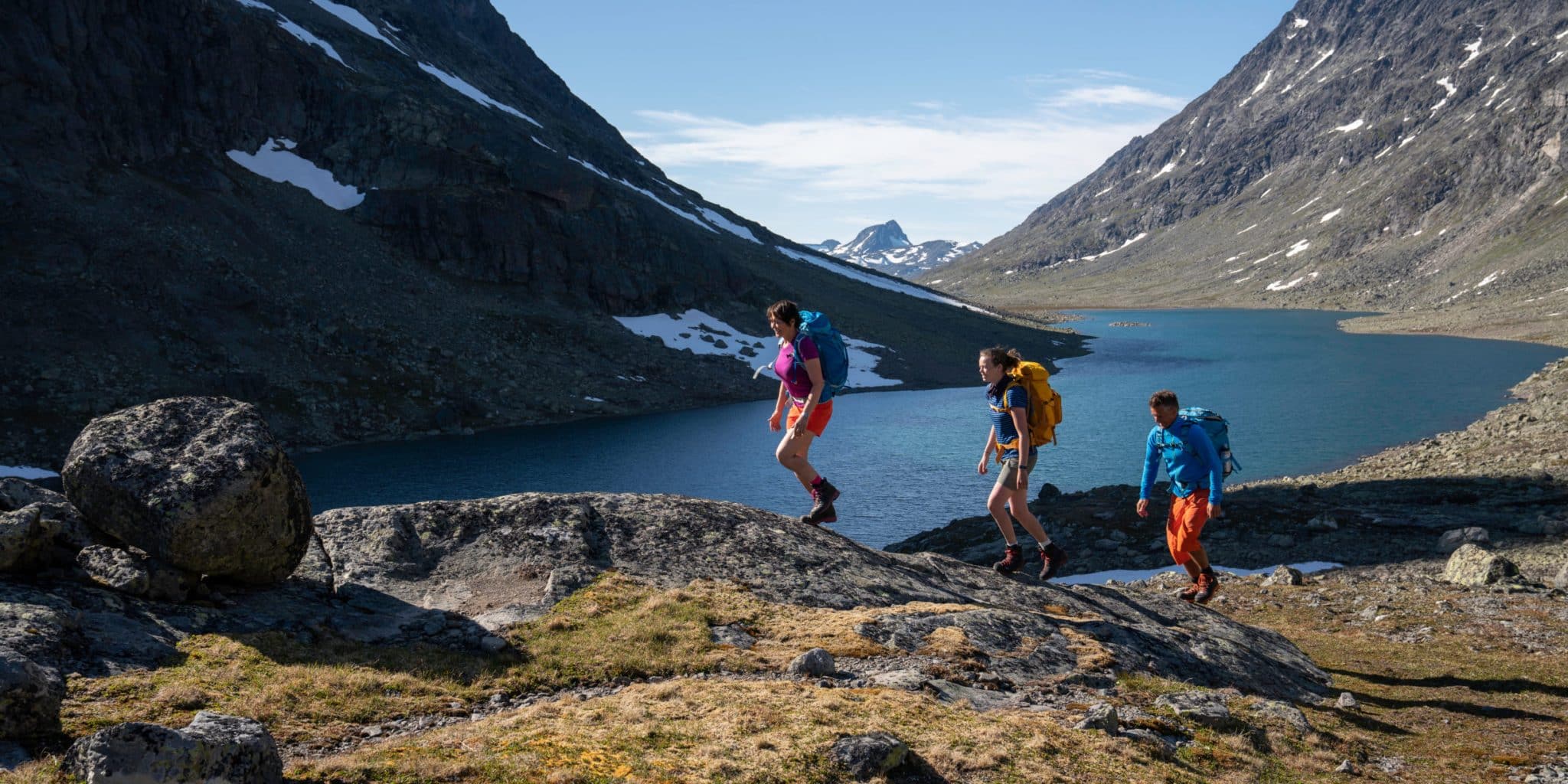 Svartdalen from Beitostølen
Bus: (Nor-Way) Beitostølen – Bygdin Hotel: 
Enjoy the trip home from the mountain adventure. The express buses take you straight from Jotunheimen and Valdres back to the city. On the way you will pass mountains, valleys, rivers and beautiful farms. The buses have free WiFi, power outlets with USB chargers and toilets.
Boat: (M / B Bitihorn) Bygdin → Torfinnsbu:
Gjendesheim Turisthytte has a history dating back to 1878. The cabin is run by DNT and is located in the heart of the Norwegian mountains, with Besseggen as a neighbor. Gjendesheim is a good starting point for many mountain trips, and is well suited for trips that go with the gjende boat.
Hiking: Svartdalen
Difficulty: Challenging
Time: 6-8 hours
Distance: 14 kilometers
Ascent: 610 meters
The hike through Svartdalen offers a fantastic view of the surrounding mountain peaks. In these areas, there have been repeated discussions about which peaks are most demanding and which are actually highest. Although it was long thought that Knutsholstinden was the highest peak, we know today that Knutsholstinden is 2341 meters, while Store Skagastølstinden is 2405 meters high. William Cecil Slinsby, who was first up on Store Skagastølstinden, took a milk wife up to prove that it was only a simple climb "for women".
Boat: (Gjendebåten) Gjendebu → Gjendesheim 
The green Gjendevannet is 984 meters above sea level and is surrounded by several 2000 meter high mountain peaks. The Gjende boat runs between Gjendesheim, Memurubu and Gjendebu.
Bus: (Nor-Way) Gjendesheim → Bygdin Hotel → Beitostølen: 
The buses have free WiFi, power outlets with USB chargers and toilets.
Below you will find practical information about this trip.
Can not find what you are looking for? See our frequently asked questions page, or send us an email – we will help you!
Transportation
Reisen inkluderer busstransport fra Beitostølen til Bygdin, båt-turer med M/B Bitihorn og Gjendebåten, og busstransport fra Bygdin til Beitostølen. 
Meals
Meals are not included in this package.
Experience Jotunheimen with us!