Mjølkevegen: North Route (6 days)
This week-long adventure will see you cycling through beautiful mountain landscapes along popular places like Jotunheimvegen and Stølsvidda, and you'll see plenty of the traditional farm life and landscape in this stunning region of Norway.  You will cross the highest mountain in Norway, Jotunheimen by bike and boat and experience delicious local food along your way. The length of the route is 210 km. 
Jotunheimen National Park

Boat ride with M/B Bitihorn

Delicious local food
Bus transport from/to Oslo

Luggage transport

Accommodation

Breakfast, packed lunch and dinner

Detailed tour description

Original Mjølkevegen map
June – September
Daily departures between:
27.06. – 24.08. 2023
29. – 31.08.2023
05. – 07.09.2023
Mjølkevegen – a cycling adventure
The beautiful route Mjølkevegen has been named one of the best cycling routes in Norway. The full route stretches over 250 km, from Vinstra to Gol. We have prepared a variant of the Mjølkevegen tour that takes you over the north side of the well-known, long route. The northern route is a great cycle ride that will take you from Lemonsjø to Beitostølen (around 200 km) within a week.
This great cycle tour is perfect for cyclists with some experience who are in good shape, and who want a fantastic cycling experience in one of Norway's most beautiful areas. The northern route will take you through beautiful mountain and mountain landscapes such as Jotunheimvegen and Stølsvidda, and can offer great nature experiences. This great week-long tour is perfect for a real Norwegian holiday where you get to experience the best the Valdres region has to offer.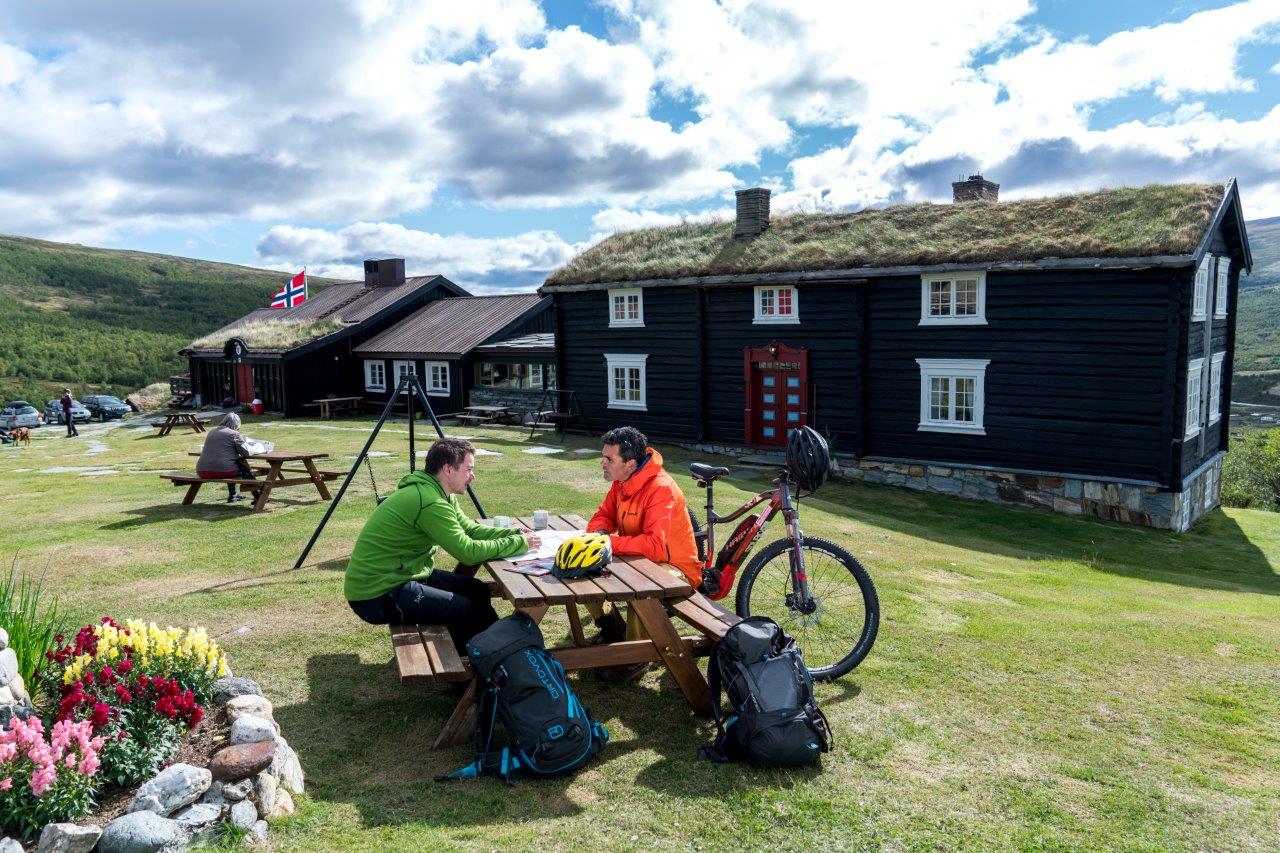 Dag 1: Oslo - Lemonsjøen
Arrival by Valdresekspressen from Oslo
. 
Different departure times available.
Enjoy the trip from the big city towards Valdres and Jotunheimen! The express buses take you straight from the capital to the heart of Norway. On the way you will pass mountains, valleys, rivers, and beautiful farms. The buses have free WiFi, power outlets with USB chargers and toilets. 
Accommodation: Lemonsjø Fjellstue 
Family-driven Mountain lodge with traditional cabins, hotel rooms and classic Norwegian cuisine at the lake Lemonsjøen. 
Day 2: Lemonsjøen - Ruten
Lemonsjøen to Ruten 
On your first day you will travel on gravel road through wooded Murudalen and along several mesmerizing rivers until you come to the village of Skåbu. From there it is not far to your next accommodation.  
Time: 3-6 hours
Distance: 59 km
Ascent height: 750 m
Descent height: 730 m 
Accommodation: Ruten Fjellstue 
You will find Ruten Fjellstue in Espedalen, close to Bjørnsonvegen. The area is also often called Elgland, as it is one of Europe's areas with the most moose crossings. The even have their own brewery – maybe you can taste their beer tonight?
Day 3: Ruten - Bygdin
Ride: Jotunheimvegen (Ruten Fjellstue → Bygdin Høyfjellshotell)
Today you will follow "Jotunheimvegen" cycling from wooded Espedalen towards the fjells above the treeline at Jotunheimen. You will pass many summer farms along the way and follow the big lake Vinstra. On the horizon can you see already the mountains of Jotunheimen and the summit of Bithorn, where you will stay for the night. 
Time: 4-5 hours
Distance: 63 km
Ascent: 870 m
Descent: 690 
Accommodation: Bygdin Høifieldhotell 
Right by Bygdinvannet and the pier to M / B Bitihorn you will find Bygdin Høifjellshotell. The hotel offers a traditional and historic atmosphere, with good local food.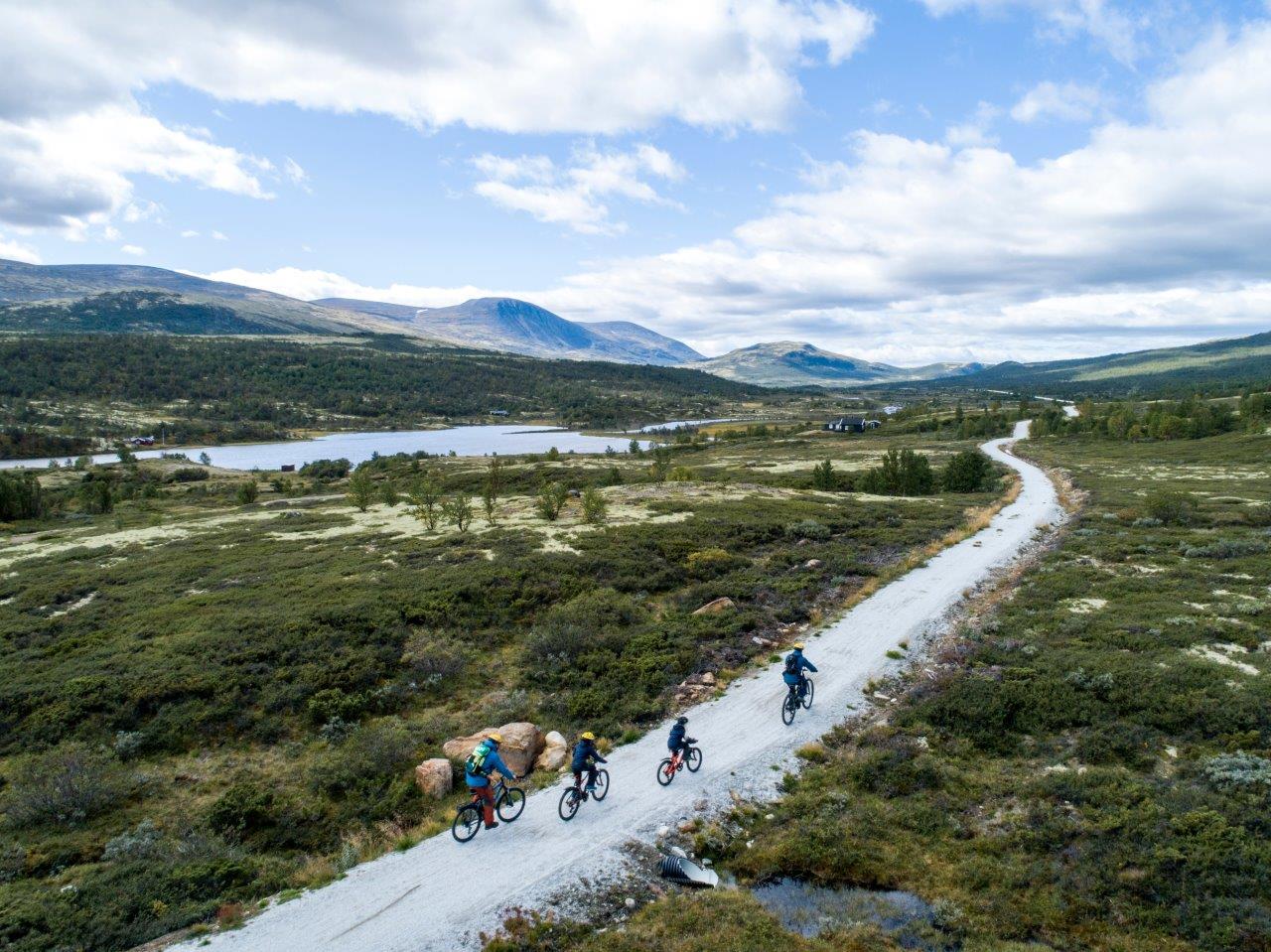 Dag 4: Bygdin - Tyinkrysset
Bygdin → Tyinkrysset  
Today you can start your day relaxed or do a hike to one of the close by summits, since your boat over Bygdin lake leaves not before early afternoon. 
Hiking suggestion: Sysnhorn 
Synshorn (1457 masl) offers a fantastic view of Jotunheimen. The trails is easy to walk, and vary between some soft terrain and more rocky terrain near the top. 
Time: 1-2 hours
Distance: 5 km
Ascent: 450 m 
Boat: (M / B Bitihorn) Bygdin → Eidsbugarden 
Cruise with the historical M/B Bitihorn over lake Bygdin (1,5 hours).
Eidsbugarden → Tyinkrysset 
After you reached Eidsbugarden by boat you can follow the gravel road to Tyin along the big Tyin lake. You can do a detour into Koldedalen from Tyinholmen crossroad, to come closer to the iconic mountains like Falketinden, Uranostinden and the impressive glaciers along the way. From Tyin you cycle down the paved road to Tyinkrysset, where you can find Filefjellstuene. 
Time: 2-3 hours, Distance: 23 km, Ascent: 400 m, Descent: 220 m 
Accommodation: Filjellstuene 
Filefjellstuene is located at the village of Tyinkrysset. Here you will stay in comfortable apartments. Meal will be served in the main building. 
Day 5: Tyinkrysset - Beitostølen
 Ride: Tyinkrysset → Beitostølen

This is probably the toughest stretch on the Mjølkevegen. You will follow the main road and the "Kingsroad" down to the lake Vangsmjøse. From there you will cycle on a gravel road along the lake and impressive steep hillsides with many waterfalls. Then, the most difficult climb takes you to the highest point on the tour, Slettefjell. It is not particularly long, but it is steep. At the top of Slettefjell, you reach 1315 m.a.s.l. From there you can enjoy a gentle downhill ride towards Beitostølen. 
Time: 5-8 hours
Distance: 65 km
Ascent: 987 m
Descent: 996 m

Accommodation: Radisson BLU Mountain Resort Beitostølen 
Radisson BLU Mountain Ressort is centrally located in the middle of the small mountain village of Beitostølen not far away from the bus stop, many shops and other services. A comfortable and nice place to enjoy your last day.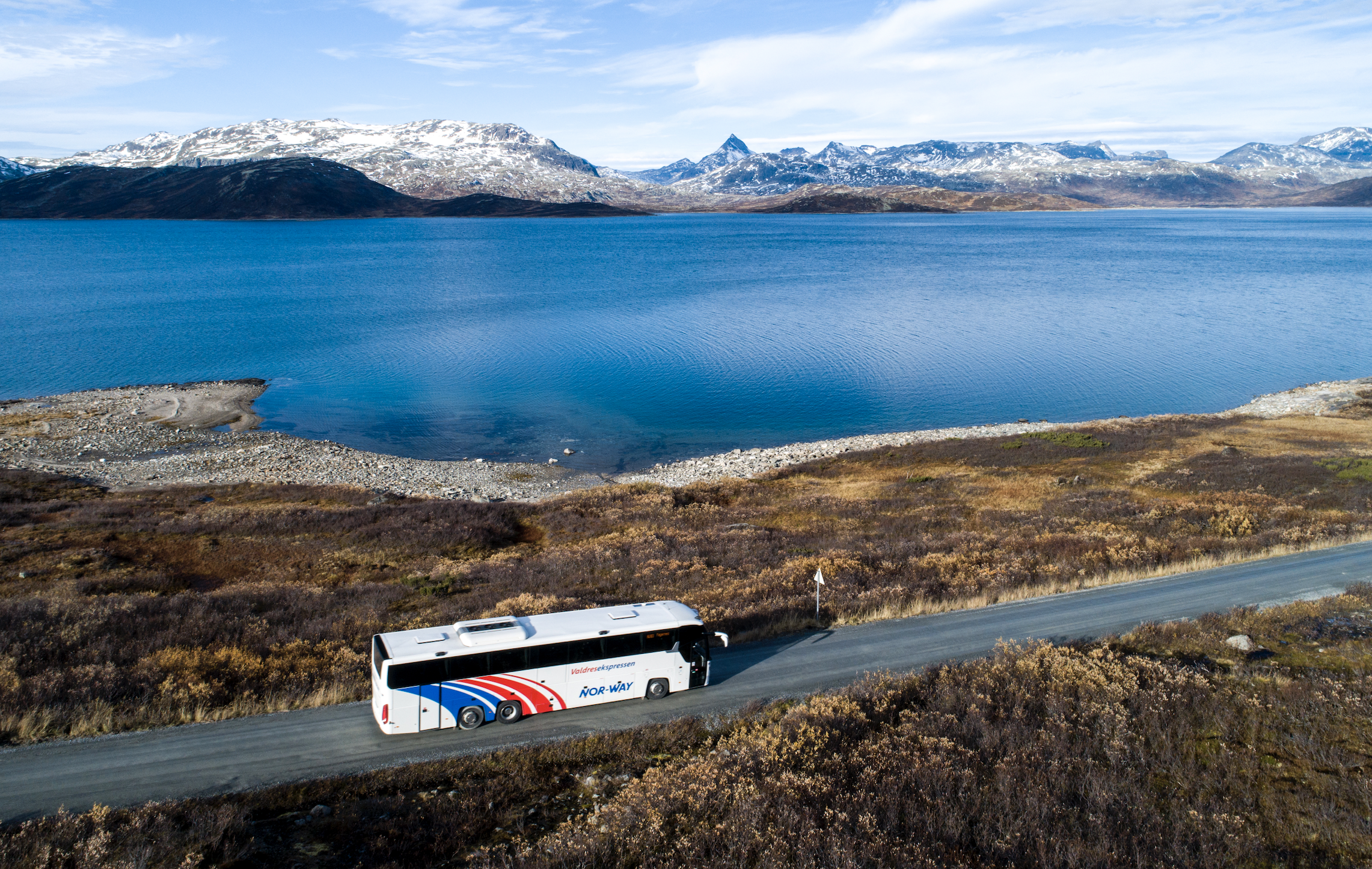 Day 6: Departure
Bus: Beitostølen → Oslo bus station
Our express buses take you straight from Beitostølen back to the capital of Norway. On the way you will pass mountains, valleys, rivers, and beautiful farms until you come closer to the more urban suburbs of Oslo. The buses have free WiFi, power outlets with USB chargers and toilets 
Below you will find practical information about this trip.
Can not find what you are looking for? See our frequently asked questions page, or send us an email – we will help you!
Transportation
The journey includes all transport to / from Oslo, and between all accommodations.
Luggage transport
We will send your luggage (1x luggage per person) from accommodation to accommodation, to make your daily experiences as light and easy as possible. 
Meals
Tour pension includes breakfast, packed lunch and dinner. If you want another drink for dinner or snacks / chocolate on the trip, this can be bought at the cabins. It is possible to fill the thermos with hot drinks (for a fee) and drinking bottles with water (free of charge) at all accommodation.
Accomodation
We choose our accommodations carefully with focus on cyclist specific services and delicious local food.

 




All accommodations offer a place to lock your bicycle, charge the battery and have some basic tools if you need to fix your bicycle. 

 
Bike rental
All the bikes we rent out are e-bikes with front suspension that are well adapted to the gravel roads you will be riding on. Helmet, luggage rack and repair kit are included in the rent. Once you have arrived at your last accommodation, we will take care of the bike for you.
Trails
Mjølkevegen (the Milky Way) consist mainly of gravel roads. Partly you will cycle paved roads and as well single trails. You share the road with cars – but traffic is very limited. What you more often will meet are cows, goats and sheep along your way. 
The route is well marked. However, you will get the original Mjølkevegen map from us and in addition gpx files for all routes for your own navigation. 
On this route it is possible to do detours and to shortcut or extend the route. You will find some recommendations in your detailed tour description.
Experience Jotunheimen with us!